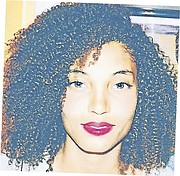 By JEFFARAH GIBSON
Tribune Features Writer
jgibson@tribunemedia.net 
MAKING the transition from high school to college brings with it its fair share of challenges. And being able to maintain outstanding academic excellence during this time is even more difficult.
However, even in the face of these obstacles, Felisha Rosendahl has made the Dean's List every semester since enrolling at the Savannah College of Art and Design in Atlanta, Georgia. 
Felisha enrolled in the Winter 2015 semester and is currently pursuing a Bachelor of Arts in Interior Design. Though is has not been easy, Felisha's desire to see her dreams fulfilled is what keeps her going. 
"I felt very accomplished and that hard work really does pay off," she told Tribune Woman. 
Felisha's hobbies include music, sports, cooking, photography and travelling. She also won consecutive MVP titles playing for the school's girls soccer team.
Since she was child, Felisha said she has been interested in crafts, so it was a natural decision for her to pursue a career in the creative field. 
"As a young girl I always found myself being creative, whether it was sketching up my dream home or redecorating my room. I also knew that I wanted to help people in some shape or form and ultimately realised that I could help people through design. Considering the fact that we spend a large percentage of our time indoors, I believe that interior design plays a huge role in how we think, act and feel in a space. That said, I chose this field because I want to help people make the right choices when it comes to the spaces we spend all of our time in as well as educate and share my knowledge on smart design choices that can benefit our hurting environment," she told Tribune Woman said. 
Starting tertiary education at the Savannah College of Art and Design has been exciting for her. However, this time also brought with it challenges that Felisha had to overcome.  
"I guess being forced to break out of my 'child shell' and become an adult with responsibility, constantly taking risks and being put out of my comfort zone was one the most challenging things for me," she said. 
Besides her recent accomplishment, a major highlight of her college experience has been watching herself grow and transform into a young independent woman and breaking out of her shell.
Once she has completed her degree, Felisha hopes to start her own company.
"I hope to open my own interior design firm where I can offer my unique interior design services to people and help improve their overall wellbeing while making positive contributions to our environment," she said.