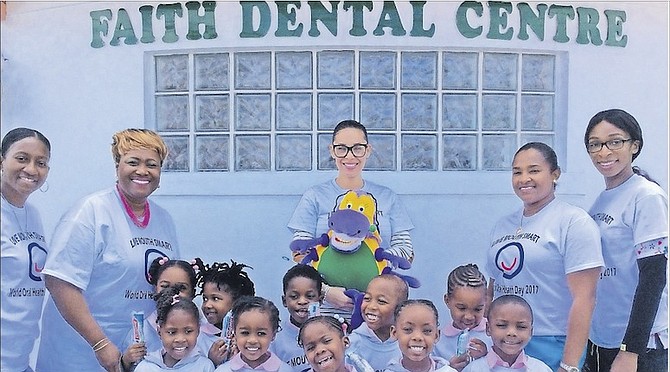 The Faith Dental Centre yesterday celebrated World Oral Health Day with the students at the Albania Christian Academy.
Dr Joy C Pickstock, managing director of the dental centre, treated the graduating class to free dental screenings, cleanings and other services.
World Oral Health Day is observed annually during the third week of March. It is the start of a global, year-long campaign to raise awareness of the importance of oral health and oral hygiene to overall wellness. This year's theme was "Live Mouth Smart". 
Realising that life-long learning and habit-formation occur during a child's first six years of life, Dr Pickstock has adopted the Albania Christian Academy, annually providing free dental care services and education to children and parents alike.  
"This has been a long-standing commitment by Dr Pickstock," said Dr Albert S Ferguson, director of the Academy,
"We know Dr Pickstock and Faith Dental Centre to be a highly professional and cutting edge dental practice, so we are thankful that they have chosen, over these many years, a well-known, professionally-operated early educational entity, which also pursues excellence."
For more on World Oral Health Day activities and programmes, visit www.worldhealthday.org.