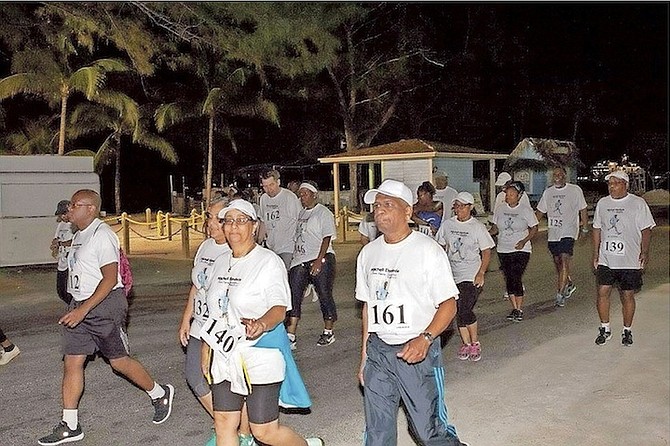 By JEFFARAH GIBSON
Tribune Features Writer
jgibson@tribunemedia.net
As people all over the world observe March as Traumatic Brain Injury Awareness Month, here in the Bahamas an organisation is hoping to raise the funds to build a unique facility to treat those suffering from the effects of brain injury.
To raise the money, as well as awareness of a condition that affects millions globally, the Mitchell Ekedede Brain Injury Foundation will host its second annual walkathon this Saturday, beginning at Arawak Cay at 5.15am. The general public is invited to participate.
After a horrific accident that left his son with a brain injury in October 2012, Matthew Mitchell teamed up with Dr Magnus Ekedede, the neurosurgeon who saved his son's life, to form a new foundation with the aim of reducing the incidences of traumatic brain injury in the Bahamas.
The foundation is a non-profit organisation whose primary objective is to reduce the incidence of traumatic brain injury and acquired brain injury in the Bahamas through brain injury awareness, education, research, prevention, treatment and advocacy. 
Traumatic brain injury (TBI) is an injury to the brain caused by trauma such as a blow to the head. It differs from acquired brain injury (ABI), which describes any other brain injury typically brought on by factors such as stroke, tumour, brain aneurysm or oxygen deprivation.
"When brain injury is suffered, most people cannot afford the cost of in and out patient care which is especially critical during the first year when such an injury is suffered, both for surgery and rehabilitation. The cost of proper care approximates $400,000 annually," Mr Mitchell told Tribune Health.
"Without insurance or personal wealth, care is not affordable or accessible. This generally results in serious lifetime disabilities or death. Money should not be a reason why people do not get quality healthcare."
He explained that after expensive surgery, the types of rehabilitation needed – sometimes at a minimum of five days a week, at least three times daily – are neuropsychology, speech, physical, occupational and recreational therapy.
"By financially supporting our walkathon and generally donating, which can be done via our website at such promotes the chance that if a person does suffer brain injury, our foundation at some point in our development, will be able to assist persons who cannot afford care," he said. 
Mr Mitchell hopes that people can empathise with those who have brain injury and show their support in any way that they can. 
"We encourage people to not think that it 'cannot happen to me', because it can. We are also aware that money is tight for most people, but to the extent that one can, we ask that you give some priority to assisting whenever possible," he said. 
"Proceeds from the walkathon will go towards funding initiatives, the largest of which is to construct our neuro-rehab centre."
This year, the foundation hopes to secure land to construct the centre, which will be the first of its kind in the Caribbean. An amount of $20 to $25 million is needed for this project. 
"We also hope to form a private public partnership with the Bahamas government to assist in reducing or eliminating in excess of $7 million annually now spent for the care of those suffering brain injury. If our foundation achieves its goals, which include initial government support by granting land on which we can construct our neuro-rehab centre, in addition to the public financially supporting us through donations, $7 million or more annually will not have to come from the public purse to care for those who suffer brain injury," said Mr Mitchell.
For more information, visit the website at www.mebif.org or call 698-0575, 434-8224.