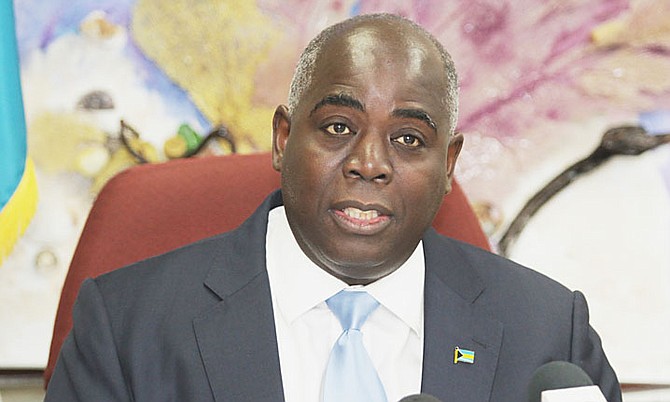 DEPUTY Prime Minister Philip Davis criticised Free National Movement Leader Dr Hubert Minnis yesterday for his "no-show" in the House of Assembly.


"Another day in the House of the Assembly, another chair left empty by FNM Leader Hubert Minnis," Mr Davis said in a statement.
"His latest no-show performance is a clear indication that he is avoiding all possibility of being exposed as unable to defend his misstatements on matters of national importance.
"Today (Wednesday), the prime minister shared with colleagues that an important milestone has been realised with the handover of facilities at Baha Mar by the general contractor to the new owner.
" . . . The progress leading up to the April 21 phased opening of the Baha Mar resort is real and exciting. The project is abuzz with bustle and activity. New employees are coming in for training, things are moving forward all on course not only for the initial opening on April 21, but timely completion of other components of the project in phased openings by SLS and Rosewood in the ensuing months. These prestigious operators and brands will be joining Hyatt and CTF Enterprises with outstanding and impactful additions to our tourism product and the economy of the Bahamas.
"If Minnis had come to Parliament, he would have been asked to pay particular attention to this portion of the prime minister's remarks: 'Over 1,000 Bahamians have already been hired at Baha Mar and 1,500 employees will be hired by the April 21 opening. Baha Mar, like Atlantis will then open in phases – with more job opportunities at every phase. No one knows better than I do how these jobs will change lives – these new opportunities are going to bring meaningful change for a lot of Bahamian families. That is why we have worked so hard to make sure Baha Mar was delivered to successful and safe hands.'"
Mr Davis said these are "the facts in the real world, not in the alternative fact-free reality that Minnis has constructed to serve his political needs."
He added: "He (Dr Minnis) has disgusted Bahamians, who wonder how he could be rooting against the creation of thousands of jobs so badly needed by so many families.
"I asked Minnis' FNM colleagues to fill him in on the day's developments — they, at least, had the courage to show up."
Dr Minnis and the FNM have countered the argument that the opposition party is rooting for the resort's demise, saying the party is only focused on getting answers to unanswered questions and concerns surrounding the deal.