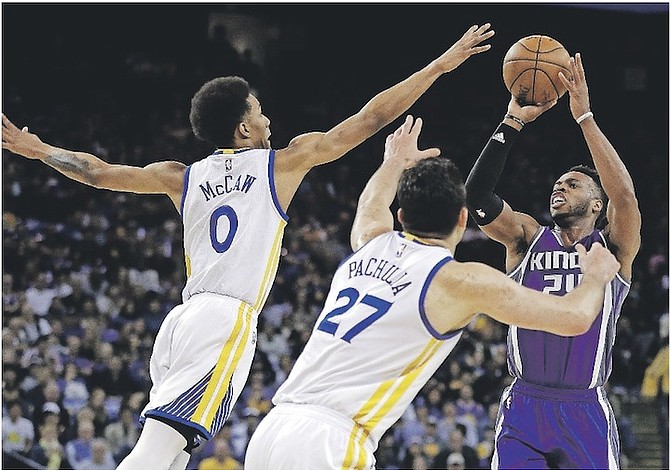 By RENALDO DORSETT
Sports Reporter
rdorsett@tribunemedia.net
IT was quite a weekend for Buddy Hield with a pair of performances that produced a new career high and a thrilling come-from-behind win on the road.
Hield made several key plays down the stretch as the Kings overcame an 18-point fourth quarter deficit to defeat the Los Angeles Clippers 98-97 last night at the Staples Center in Los Angeles, California (See story page 5).
Hield made a pair of three pointers in a nine-second span to bring the Kings within three (96-93) with 2:10 left to play. Several plays later he would grab the rebound and lobbed a full court pass to Ben McLemore who missed a layup, but the Kings' Willie Cauley-Stein grabbed the rebound and scored the game winner. Hield finished with 15 points and seven rebounds.
"I just stayed confident, found a good rhythm and made a few," he said. "It was fun seeing Willie's shot go down and getting the win."
The Kings snapped a four-game losing streak and won for only the third time in 15 games.
His effort came less than 48 hours after he set a new career high in scoring with 22 points in a 114-100 loss to the Golden State Warriors Friday at Oracle Arena in Oakland, California.
Hield nearly finished with a triple double added eight rebounds and seven assists.
"We showed signs that we could play with those guys," Hield said. "We pushed them to the max. Once we get all the young guys playing together and with our vets, I think we can do something special. We're still learning."
The 23-year-old rookie is averaging 14.7 points (on 50 percent shooting from the field), 3.7 rebounds, 2.3 three-pointers, 1.7 assists and 0.9 steals in 27.9 minutes per game since the All-Star break.