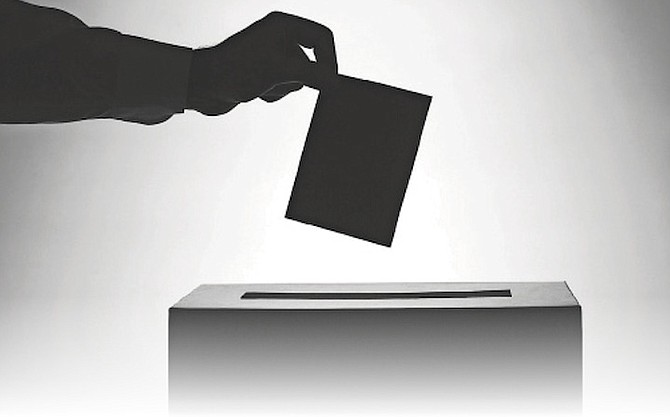 By KHRISNA VIRGIL
Deputy Chief Reporter
kvirgil@tribunemedia.net
SEVERAL people have attempted to gain two voter's cards by registering twice at different locations, Parliamentary Commissioner Sherlyn Hall said yesterday, adding that police officers have been called about at least one case.
Mr Hall told the media that the irregularities were picked up by the Parliamentary Registration Department's computer database. He said a few people in New Providence, Grand Bahama and even some Family Islands have "misled" revising officers.
"What we have discovered is that people were attempting to register twice," Mr Hall told ZNS News. "They would go to one station and register one day and go to another station and mislead the revising officer and attempt to register again. So a few persons, several persons have attempted to register twice, (and) to us that is dishonest.
"Every voter is entitled to one voter's card only, so when we find that, we delete those cards. No citizen ought to register more than once."
Meanwhile, National Security Minister Dr Bernard Nottage yesterday said he was "very surprised" at the recurring accusations levelled at the Parliamentary Registration Department, adding that attempts to discredit those tasked with handling the electoral process was "shameful".
During a Free National Movement (FNM) rally in Cat Island last week, FNM Leader Dr Hubert Minnis claimed that the Parliamentary Registration Department's computer system crashed and erased the names of registered voters. Dr Minnis did not offer evidence of this, but claimed that the government was trying to "steal" the 2017 general election.
Dr Minnis told the crowd of FNMs that his party intended to request international observers to prevent any malfeasance.
When he was asked about the matter, Dr Nottage downplayed the claims and sought to defend the department, telling reporters he was not aware of the situation. He added that Dr Minnis had not mentioned the situation to him, saying: "He doesn't come here (Parliament) so our paths don't cross."
Dr Nottage, who is responsible for elections, insisted that the repeated suggestion that the electoral process is flawed questioned the integrity of the system.
In response to Dr Minnis' claims, Mr Hall also insisted that there was no computer crash and no names were lost. He said as the protocol is for voter registration to continue until one day before Parliament is dissolved, employees were expected to continue their work until this happens.
Meanwhile, FNM Chairman Sidney Collie said in order to maintain transparent, democratic elections, it is essential that the government readily accept international election observers.
Integrity
"I think it does question the integrity of the system and of the personnel and I've noticed over the past several weeks or even months there has been a considerable attempt to discredit the Parliamentary Registration Department and the whole process," Dr Nottage said following a sitting of the House of Assembly yesterday. "I think that it's shameful that it's happening and I think that we are an open society and we have a record for hosting democratic elections.
"The sides involved in an election have always been able to speak with each other. When I was in opposition and the same persons that are running the Parliamentary Registration Department, I could go there and get information. So it's easy to if you hear something that sounds like it may be prejudicial to the process, it's easy to go and see the Parliamentary Commissioner.
"He would see anyone, in particular anyone who is the leader of a major party, and so I can't understand why he would want to cast an aspersion on that. Even if it were true I would think first you would try to verify it with the people involved."
At one point during his interview with the media, Dr Nottage seemed to be on the defensive when he was pressed on when he received his latest update from the Parliamentary Commissioner.
"You want me to tell you when was the last time (I was in communication with the staff)? If there is a question you'd like to ask me just ask the question. I don't think when was the last time I spoke to him is an appropriate question. I have spoken to them (today)."
Asked to assure voters of this election process considering the chaotic nature of the 2016 constitutional referendum, Dr Nottage said Parliamentary Registration staff members always seek to do their best.
"I think there are hiccups with every election and I think as you know in most general elections we've had there have been election court cases brought by persons who believed that something amiss may have occurred and so this election period is no different from any other.
"I think that our staff seek to do their best and those of us who are responsible for assisting are in constant contact with the persons who are responsible for activities. If there is something that is amiss we would deal with it. So I am very surprised that these accusations keep occurring," Dr Nottage said.
For his part, in a press statement yesterday Mr Collie encouraged candidates and constituents of all political parties to willingly comply with every election law.
"We must never ignore the lessons history has taught us, and although I'm confident that our country will uphold the rule of law, the government should act prudently to ensure this is a certainty. To these ends, Bahamians deserve nothing less than complete co-operation from their government," Mr Collie said.
"International election observers share an important role in this process by verifying the compliance of election laws with impartiality and efficiently correcting any potential for misconduct. Such participation fosters an environment of trust between government and its people as well as the international community.
"As leaders of the country we hold dear, the FNM will never shy away from accountability and transparency. Our hope is that Bahamians can take pride in every aspect of our country, and this begins with an unwavering commitment to the democratic process," Mr Collie added.