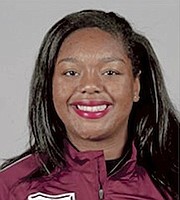 By BRENT STUBBS
Senior Sports Reporter
bstubbs@tribunemedia.net
SERENA Brown had another record-breaking performance at the Mt SEC relays, while the men and women national teams didn't fear so well at the Penn Relays where Brown's alma mater, St Augustine's College, had a successful showing.
And at the Drake Relays at Drake University in Des Moines, Iowa, over the weeken, Devynne Charlton helped Purdue to pull off a hurdles shuttle win over Pedrya Seymour and Illinois.
Brown, a freshman at Texas A&M, increased her own national record to 56.84 metres on her fourth attempt to win the women's discus at the 2017 SEC Relays at the Bernie Moore Stadium in Baton Rouge, Louisiana.
Her nearest rival was Janeah Stewart, a junior at Old Miss, who threw 56.00m on her first attempt.
"This one felt really good," Brown told The Tribune after her performance. "The girl who was in second, who threw 56-feet and I was able to answer back, so it was quite an amazing feeling.
"Being able to do that and get the win was just fantastic. All of my coaches and team-mates were so excited so the atmosphere was so jovial."
Brown also threw the shot put on Saturday where she was eighth with 13.93m (45-08.50). Stewart won the event with 17.82m (58-05.75).
"I was able to move up to number one in my conference this weekend and number two in the world junior list," said Brown of her performance in the discus.
"My practices have been going really good and it has showed in my performances in the meets, so I'm just looking for some good things the rest of the season."
Penn Relays
After failing to make the finals at the IAAF/BTC World Relays last weekend at the Thomas A. Robinson National Stadium, the Bahamas Association of Athletic Associations sent its men and women 4 x 400 metre relay teams to the Penn Relays Festival to improve on their times.
Competing in the showdown dubbed: The USA versus the World Elite Relays, neither team were able to improve on what they did here as they missed a couple of key athletes.
The women's team, without Olympic gold medalist Shaunae Miller, did not finish. The team comprised of Lanece Clarke, Christine Amertil, V'Alonee Robinson and Rashan Brown.
The Jamaicans pulled of the upset in winning in 3:28.32. The United States of America had to settle for second in 3:29.30.
And the men's team, without world leading quarter-miler Steven Gardiner, came in third as Michael Mathieu, Demetrius Pinder, Ramon Miller (46.75) and Andretti Bain (46.22) combined to run 3:06.20.
The Jamaicans won in 3:03.14 and the United States was second in 3:03.25.
The Bahamas also entered a team in the women's sprint medley with the quartet of V'Alonee Robinson (100m), Tynia Gaither (100m), Anthonique Strachan (200m) and Rashan Brown (400m) coming in third in 1:39.44.
The USA won in 1:35.59 and the Jamaicans got second in 1:36.67.
In the high school segment, the best showing came from St Augustine's College Big Red Machine as their team of Jaida Knowles, Tanae Miller, Doneisha Anderson , Megan Moss placed sixth in 45.81 in the Championship of America's 4 x 100m final.
The team of Knowles, Miller, Blayre Catalyn and Moss clocked 46.26 for fourth place in the Small School heats. Bishop Michael Eldon's team of Latevia Adderley, Destiny Huyler, Aaryanna Cooper and Dajonae Jayawardana ran 49.54 for 28th.
SAC also won their heat of the 4 x 400m relay with the quarter of Doneisha Anderson (55.32), Marissa White (55.61), Jaida Knowles (57.52), Megan Moss (54.81) clocking 3:43.25 for second overall.
However, they didn't complete in the Championship of America's final.
Bishop Michael Eldon also got eighth in the high school girls 4 x 400m heat as the team of Quanisha Marshall (58.83), Latevia Adderley (1:00.74), Destiny Huyler (1:01.57) and Dajonae Jayawardana (1:02.50) ran 4:03.62 for eighth.
In the high school boys' 4 x 100m Small Schools, three teams from the Bahamas participated.
St Augustine's College team of Joel Johnson, Tavonte Mott, Raymond Oriakhi and Adrian Curry led by placing 20th in 42.49.
Bishop Michael Eldon's team of Emmitt Higgins, Cruz Humes, Isreal Williamson and Ty Dawkins got 47th in 43.64. Nigel Lafleur, Natario Williams, Ricardo Russell and Mikhail Duncombe of North Andros ran 43.90 for 63rd place. St John's was 119th in 44.84 with team of Joshua Fernander, Rashad Darling, Breshoan Pennerman, Cyrique Saunders.
North Andros High, with the combo of Mikhail Duncombe (51.01), Nigel Lafleur (49.79), Deshon Joseph (50.91), Ricardo Russell (48.70), placed fifth in 3:20.40 in the high school boys'4 x 400m. Bishop Michael Eldon got ninth in 3:23.85. Their team included Israel Williamson (51.13), Ty Dawkins (50.94), Elijah Swain (49.73), Braham Najman (52.07).
On the college side, Teray Smith ran the opening leg for Auburn University as they won their heat in 39.66. Smith also opened up on the first leg in the Championship of America's Invitational final as Auburn got third in 39.12.
The University of the Bahamas' team of Aaron Cox, Yurick Dean, Ken Mullings and Avery Thompson was 40th overall in 40.50.
In the men's 4 x200m, the team of Ken Mullings, Yurick Dean, Verdell McIntosh and Avery Thompson was 19th in 1:27.65.
The team of Verdell McIntosh, Ken Mullings, Yurick Dean (51.39) and Tyler Gardiner (53.02) was 59th in the men's 4 x 400m in 3:25.48.
Smith, however, ran the second leg for Auburn as they won the Championship of America men's 4 x 400m final in 3:05.19.
Jenae Ambrose anchored Auburn University to second place overall in the women's 4 x 100m heat with Keianna Albury running the second leg as Penn State was sixth in 45.05.
In the Championship of America women's 4 x100m college final, Ambrose anchored Auburn University to second place in 43.02, while Albury on second leg for Penn State got sixth in 44.78.
The University of the Bahamas didn't advance out of the preliminaries as the team of Gabrielle Shannon, Antonishka Deveaux, Ronnecia Ferguson and Alexandria Strachanwas 56th in 48.86.
Albury also ran the second leg as Penn State came fourth overall in the 4 x200m heats 1:35.36. In the Championship of America women's 4x200m final, Albury again ran second leg as Penn State got fourth in 1:35.59.
The University of the Bahamas' team of Gabrielle Shannon, Antonishka Deveaux, Ronnecia Ferguson and Beyonce Scott was 24th in 1:40.55.
And in the 4 x400m, the University of the Bahamas' team of Gabrielle Shannon, Antonishka Deveaux, Beyonce Scott and Ronnecia Ferguson was 62nd in 4:07.96.
Individually, Danielle Gibson won the women's triple jump with 13.26m (43-6) and Ambrose was fourth in the women's100m for Auburn in 11.35.
Drake Relays
The top two Bahamian collegians competed against each other on the first leg of the women's shuttle hurdles. It was Charlton and Purdue, who came out with the win in 53.85 with Seymour and Illinois taking second in 54.54.
Charlton also contested the elite women's 100m hurdles where she was fifth in 12.89. Kendra Harrison of adidas claimed the victory in 12.56.
Seymour, meanwhile, ran the opening leg for Illinois as they got fourth in the university women's 4 x 100m in 45.79. She also contested the women's college/university 100m hurdles heats where she was the fastest qualifier in 13.16. But she didn't compete in the final.
Carmiesha Cox ran the third leg for Purdue in the women's 4 x 400m as they won in 3:34.31.
Jamal Wilson came in eighth in the men's high jump with a leap of 2.14m (7-0 1Ž4). Trevor Barry was also scheduled to compete, but he didn't make the trip.
Leevan 'Superman' Sands also competed in the men's triple jump special where he was 8th with 15.26m (50-00.75). The event was won by American Christian Taylor with 16.93m (55-06.50).