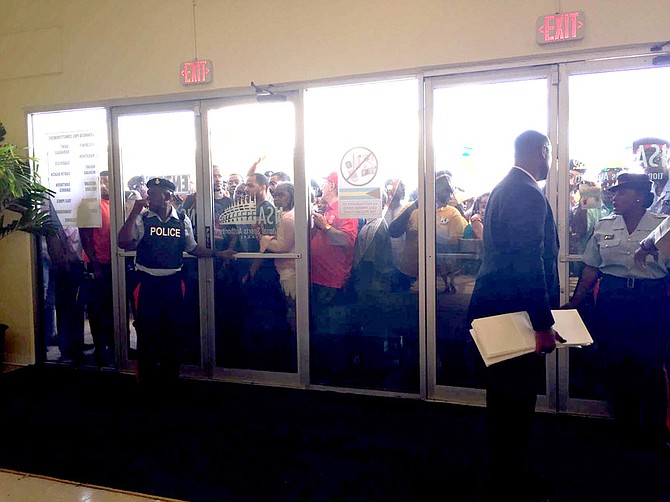 The video below shows PLP and FNM supporters on Wednesday afternoon at the Kendal G L Isaacs National Gymnasium - with FNMs chanting "No more teifing!".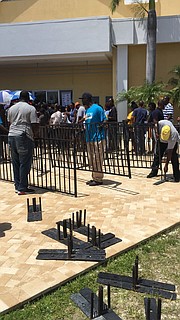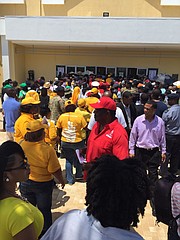 THE advanced poll for the general election got off to a chaotic and late start in the capital this morning.
Despite a public notice indicating there would be two separate polling stations, thousands of voters slated to cast an early vote in New Providence crammed into Kendal G L Isaacs National Gymnasium on Wednesday.
Voting was scheduled to take place from 8am to 6pm, but did not get started until around 9.20am. The Thomas A Robinson National Stadium had been named as the second site but was not used.
One of the first voters told The Tribune he arrived at the polling station at 6.30am, with many others attesting that they had been waiting in line since 7am.
Over the course of the morning, hundreds of voters joined the lines outside the gym that extended well past the tents erected in the parking lot to shield party workers from the sun, and out into the road.
As crowds continued to build, officials began erecting additional barricades sometime around noon in a bid to create separate lines for respective constituencies.
National Security Minister Dr Bernard Nottage, who has responsibility for elections, told reporters at the gym that the process was not going as freely as the government would have hoped, but expressed confidence that it will run smoothly next week Wednesday.
The Tribune has also received anecdotal reports of hiccups at overseas embassies in London and Atlanta; however, those reports are still unconfirmed.
See Thursday's Tribune for full coverage