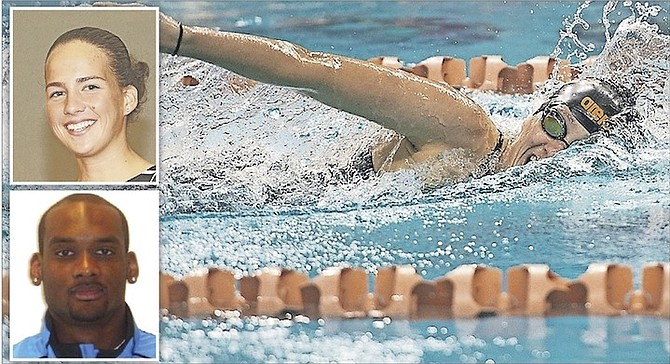 By BRENT STUBBS
Senior Sports Reporter
bstubbs@tribunemedia.net
Minister of Youth, Sports and Culture Dr Daniel Johnson said it seems letters written by the Bahamas' three elite swimmers over their funding is politically motivated because all they have to do is simply apply to Tim Munnings, the director of sports.
But after writing their letters to Prime Minister Perry Christie, Dr Johnson, Munnings and the Bahamas Olympic Committee months ago, Olympic swimmers Vereance 'Elvis' Burrows, Arianna Vanderpool-Wallace and Joanna Evans said they are disappointed that they are being ignored.
"Since July, our federation has been going back and forth with the ministry, trying to get answers or follow up and to get meetings, but they have been ignored," Burrows said. "It wasn't until October that the federation emailed all of the swimmers and informed us what was going on and they were working on it and they encouraged us to continue training."
After they waited and still didn't get any answers, the 28-year-old Burrows, who is still in training to compete, said they were advised by the federation to take a personal approach and contact the ministry to find out for themselves what was happening.
"A lot of us wrote our own letters in emails and again all of us got ignored," Burrows said. "At Carifta, Arianna was there supporting the youth and after she spoke with Dr Johnson, a meeting was set the next day and he never showed up."
With the type of résumé that Vanderpool-Wallace possesses, Burrows said he couldn't believe that the minister stood her up. He said after he saw the treatment she got, he decided to write his letter to the Prime Minister.
"I wrote it myself, I put it out and until I get some answers, I will continue to write about this problem," he said. "I know a lot of athletes in other sports are also complaining, but they are not prepared to do what we are doing because they are in fear of losing their subvention.
Burrows said he's also written to Munnings and Rommel Knowles, the secretary general of the BOC, but none of them have responded. He said he's written to Knowles about the scholarship funding and he's not heard anything from him.
Vanderpool-Wallace, in her letter, questioned why the ministry has refused to pay the subventions owed to the swimmers this year.
"The Bahamas Swimming Federation was trying to alleviate that problem by funding us out of their own funds, but they have ran out of money," she said.
"So we're asking for the ministry to repay the federation the money that is owed and to continue our subvention. I didn't realise that there was a problem until we were informed by our president (BSF president Algernon Cargill)."
Vanderpool-Wallace, who is back at Auburn University where she is now employed (see story below), said they have been working hard to represent the country and she doesn't think it's fair that they are not receiving their funding to assist with their training.
"I'm very blessed with the fact that I'm sponsored by BTC, so I didn't feel the effect as much as others like Joanna Evans, who is in college," she pointed out.
"I know that there are other swimmers and even athletes who are affected because that is the money that they rely on every month. So I know they are feeling it financially."
While home for the Carifta Games over the Easter holiday weekend, Vanderpool-Wallace said Dr Johnson insisted that he would meet with her on Tuesday morning at the Betty Kelly Kenning Swim Complex.
But the 27-year-old said she's not sure if there was a miscommunication or not, but she waited for about three hours at the pool and he never showed up.
"I think it's a bit of a slap in the face not to fund us anymore and there was no reason given," she said. "They couldn't say that we were not performing very well, or the federation wasn't making any progress.
"I think we've improved drastically over the last five years and so I just wanted someone to tell us the reason why we were not being funded. No one was telling us why. So I was hoping that I would have gotten the response from the minister."
Dr Johnson, the outgoing minister, said he was at the Carifta swimming when he spoke with Vanderpool-Wallace and invited her to his office for a meeting.
He denied that the meeting to be held at the Betty Kelly Kenning Swim Complex because he would have had to attend Cabinet that same day.
"I want to apologize for any misunderstanding with the meeting, but for the subvention, they will have to apply to the ministry and if they are in compliance, they will be accepted.
"But I don't do subvention. That's done by the Director of Sports and he have a committee that is directly involved in the final selection and approval."
With this being the height of the election season, Johnson said it appear that the issue is politically motivated, but there's nothing that he can realistically do right now.
"Anybody or any association or federation who feel they have been left out, can write to the ministry," Johnson said. "But to try to take me to task in the media, it won't work. They won't get any response from me. Not right now. If they don't like it, I apologize, but there's nothing I can do right now."
Johnson said he take exception to any association or federation who claim that he treated them unfairly because he felt he went beyond the call of duty to assist every organization, including swimming.
"I think they are just trying to be mischievous," he pointed out.