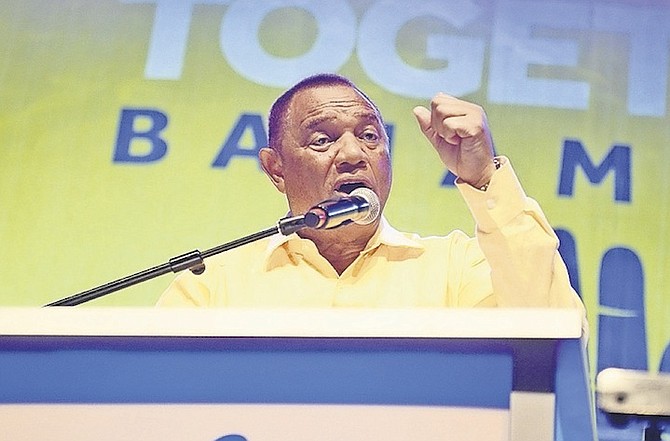 By RASHAD ROLLE
Tribune staff Reporter
rrolle@tribunemedia.net
IF the Free National Movement wins the election, Dr Hubert Minnis would not be able to rely on former Prime Minister Hubert Ingraham for leadership, Prime Minister Perry Christie emphasised in Crooked Island on Saturday.
He said: "Because nobody listening to him, (Dr Minnis) called Hubert (Ingraham) out of retirement and, I don't want you and I to forget this, Hubert and I squared off in 2012 and who won in 2012? So all I'm telling you is this: whether it's Hubert Ingraham, whether it's the Right Honourable Hubert Ingraham, whether it's 'Papa' Hubert whatever it is, that Hubert Ingraham, that papa, that right honourable is not going to be able to do the job for Hubert Minnis because at the end of the day the people of the Bahamas are smart enough to know that it is Minnis who is supposed to lead, it's Minnis who is supposed to have an idea and a vision for the country, it's Minnis who does not have the idea, does not have a vision and it is Minnis who is hiding behind a lot of nasty things this time around, just talking bad about people and hoping to win an election on it."
Mr Christie's comments came as he contrasted the unity in his party with the disunity in the FNM in recent years.
"The FNM is a party unlike the PLP," he said. "You have a united party, a party made of men and women that without any doubt whatsoever is the best team offered in the general election. Minnis' party has a history of being broken up, disunited. You have a party with a leader with the known capacity to lead. Minnis has not demonstrated any capacity to lead. Minnis couldn't keep seven or eight people together in Parliament. When we loan him two from the PLP, the two we lend him from the PLP couldn't help him keep his position. He has a disjoined, broken up party."
Since his return to the limelight last week, Mr Ingraham has been a dominant focus of attention for PLP supporters during rallies and on social media platforms.
"They brought back 'Papa Clown,'" Deputy Prime Minister Philip 'Brave' Davis said Saturday. "'Papa Clown' is my boy but look how they brought him back, the first one, the first Hubert, to finish out the election because they don't believe in the Hubert they got now. If they don't believe in him and they have to bring back the first Hubert, how they expect you to believe in him? Isn't that something, asking Ingraham to bail him out?"
His comments came during a rally in Abaco. Mr Christie was expected to attend but did not, citing bad weather in the southern Bahamas where he had visited.
Edison Key, who represented Central and South Abaco as a member of the FNM since 2007, also spoke in support of the PLP in Abaco.
He called Dr Minnis a "Chihuahua" who won't be able to lead the country.
Mr Key was one of seven FNM MPs who said they had no confidence in Dr Minnis as leader of the Official Opposition and had him removed from that post last December.
In early April Mr Key said he was no longer a member of the FNM and was back "home" with the PLP, a party he quit in 2004.