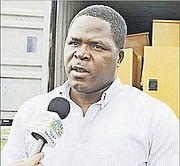 By NICO SCAVELLA
Tribune Staff Reporter
nscavella@tribunemedia.net
DESPITE being "slow" to come out of the Ministry of Works, the multi-million dollar drainage initiative to better alleviate the flooding issues in the Pinewood constituency will likely commence by late fall, according incumbent Pinewood representative Khaalis Rolle.
Mr Rolle, in a recent interview with The Tribune, said there is "no fear" as to whether the initiative is "something that will be completed," as he said the drainage plan has received Cabinet approval, and he expects that the tendering process will begin in July.
However, the minister of state for investments said the initiative is now "out of his hands" and under the remit of the Ministry of Works.
Last year, Mr Rolle said officials were finalising the costing of the initiative before the project goes out to bid. At the time, he said, the government was in possession of the initial estimate for the plan, and officials were "refining" all of the information they had before putting it out to tender.
"The drainage plan has been approved, it's just been slow coming out of Ministry of Works," Mr Rolle told The Tribune. "I suspect that in July they will begin their tendering process with a late fall start for the project. But it's been approved, so there's no fear as to whether or not it's something that will be completed, because it's already received Cabinet approval."
In late 2014, Cabinet approved an $8m project to alleviate the flooding issues in Pinewood. The work scheduled to be done will include the southern corridor of New Providence, including South Beach, parts of Kennedy Subdivision and Bamboo Town.
Florida-based Coastal Systems International is the government's consultant for the project.
In February of last year, Mr Rolle reportedly said that the government and private sector engineers were together completing the technical aspects of the project. At the time, he said technical details and a scope of works had yet to be completed.