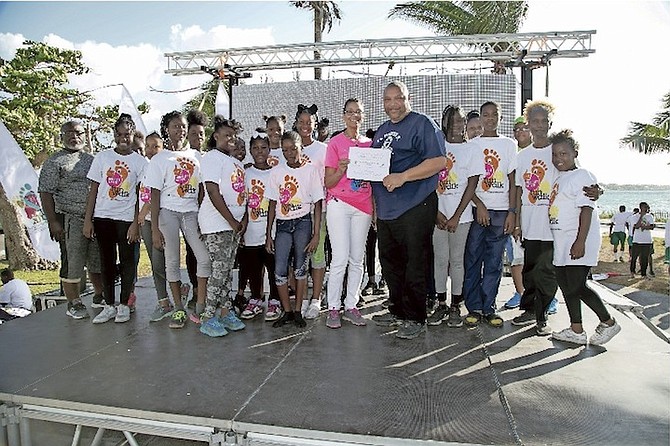 Over the past several years, Atlantic Medical Insurance has hosted one of the most popular fun run/walks in the country. The main objective of the event is to achieve "top of mind" awareness of the importance of healthy lifestyles, the company said.
Atlantic Medical Insurance has contributed significantly to two charities: the Bahamas Cancer Society and the Bahamas Diabetic Association. Approximately $400,000 has been donated over the past 18 years to these charities – all proceeds from the fun run/walk.
The 19th annual Atlantic Medical Fun Run/Walk, held on April 29, attracted more than 1,000 participants. T-shirts worn by participants showcased one of three fun healthy lifestyle themes: 'Six Pack Coming Soon', 'Feeling Awesome' and 'Don't Sit, Get Fit'.
People competed in the categories of runners and walkers; male and female, and in the following age groups: under 15, 15-19, 20 - 29, 30 - 39, 40 - 49, 60 - 65, and over 65.
Michael Symonette, former CEO of BTC, stood out by placing first in his age group, over 65, and by ranking fifth overall.
Mr Symonette and his family have participated in the Atlantic Medical Fun Run/Walk for the past several years.
On another note, for the first time, the event introduced the high school chant competition. Three of the country's top junior high schools competed in a chant competition highlighting the event's three themes.
Enthusiastic students rocked Montagu Beach in the promotion of healthy lifestyles, positioning themselves to win great prizes. At the end of the morning, judges Monique Toppin, a professor at the University of the Bahamas; Antonio Knowles, a CPA, and TR Sands, an IT professional, chose the school that executed the best healthy lifestyle chant.

The school in first place, TA Thompson Junior High School, won $1,500 with their theme 'Don't Sit, Get Fit'. C H Reeves Junior High School received $700 for their theme 'Six Pack Coming Soon', and placing third with a prize of $500 was H O Nash Junior High School for their expression of the theme 'Feeling Awesome'.