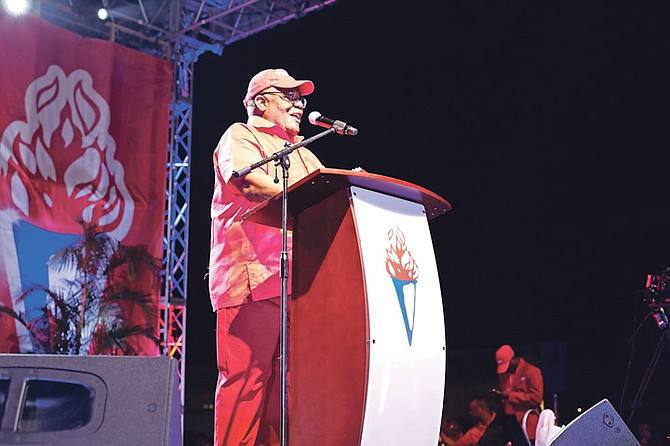 By RASHAD ROLLE
Tribune Staff Reporter
rrolle@tribunemedia.net
FORMER Prime Minister Hubert Ingraham claimed yesterday that ballots arrived late to the Kendal Isaacs Gymnasium at last week's advanced poll because the day before, Attorney General Allyson Maynard Gibson advised the Parliamentary Registration Department that it could add additional people to the register.
Although Wednesday's much derided advance poll was supposed to start at 8am, ballots did not reach the location until afterwards and voting didn't begin until after 9am.
"The ballots were not ready to go to the Queen Elizabeth Sports Centre until a quarter to 8 that morning," Mr Ingraham said on 96.9 FM show "Off the Record" to his former State Minister for Finance Zhivargo Lang.
"They were not ready to go. They were still being prepared up to a quarter to eight that morning. Why was it not ready until then?
"The Attorney General Allyson Maynard gave some legal opinion late the day before that allowed them to add to the register additional names. 'Them' being PLPs, to add PLP workers names to the list as to who could vote like the government people who could vote, they could vote in the advance poll.
"That took some time because as they got these names in that night, they had to go and pull those counterfoils to add to the list. So at the end of the day that resulted in a lateness. They are the unadulterated facts."
Mrs Maynard-Gibson did not respond to requests for a response to Mr Ingraham up to press time.
Last week, the former Parliamentary Commissioner Sherlyn Hall suggested actions were taken with respect to the poll that helped cause Wednesday's chaos, actions which he said he didn't agree with.
"The (Parliamentary Elections) Act does not mention nothing about agents, election agents, voting at the advanced poll," Mr Hall told ZNS News last week. "So I was compelled to accept the poll workers' application form K as if they were election workers."
When asked by ZNS who advised him to do this, Mr Hall said: "I would not reveal that ma'am. Of course there would have been consequences."
He said he did not know what those consequences would have been.
"To err on the side of caution I decided to accept them."
Mr Hall has also blamed Carl Smith, permanent secretary in the Ministry of National Security and senior returning officer for the poll, for the problems, citing him as the reason the voting sites were cut from two to one in New Providence.
Nonetheless, Mr Ingraham said he expects today's poll to be conducted smoothly, particularly because Charles Albury, the former permanent secretary in the Ministry of Tourism, is now the acting parliamentary commissioner.
Mr Ingraham said during a past conversation with Prime Minister Perry Christie, he encouraged Mr Christie to appoint Mr Albury to his current position.
"I took it upon myself to speak to the prime minister sometime ago about the election process," he said. "One of the things I suggested to him was the same person he has now made parliamentary commissioner, Chucky, that he was the best person in the service to become the parliamentary commissioner. I have lots of confidence in Chucky. He has experience. He has knowledge. He's been working there for a long time and he will do a good job within the confines of what he has."
Mr Ingraham said while there may still be problems in terms of the accuracy of the voting register, people should not allow this to prevent them from voting because problems will be addressed through due process at a later time.
"People whose names appear in the wrong polling station, in the wrong constituency etc, my advice to them would be to vote where your name appears," he said. "Don't worry about it because that can't be fixed no more. If they say you living in Fox Hill and they got you in Marathon, then you vote in Marathon. "Wherever they got you, you vote. We will deal with that after the election."
Although poorly sealed ballot boxes have been raised as a concern, Mr Ingraham said "generally speaking," he believes Mr Albury will conduct an election that takes account of this country's "history of fairness."