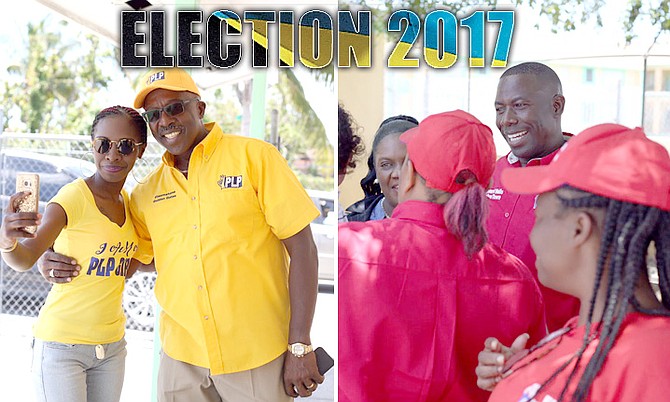 THIS LIVE BLOG IS NOW CLOSED - OUR LIVE ELECTION RESULTS BLOG IS NOW ONLINE HERE
Welcome to The Tribune's live election coverage. We'll keep you up-to-date with news throughout the day as the Bahamas goes to the polls and, later, bring you all the results as they come in.
The Tribune reporting team are: Ava Turnquest, Khrisna Virgil, Rashad Rolle, Sancheska Dorsett, Lamech Johnson, Ricardo Wells, Nico Scavella, Denise Maycock, Shawn Hanna and Terrel Carey
5.50pm:The Parliamentary Commissioner has released a statement on social media claims - and an update on late voting:
"CALLS FOR CANCELLATION OF GENERAL ELECTIONS ARE TOTALLY FALSE
"It has come to the attention of the Office of the Parliamentary Commissioner that there are claims on social media that international election observers have called for the cancellation of the 10th May 2017 general elections in The Bahamas.
"These social media postings are absolutely false and are categorized as Fake News.
"Under law, only the Parliamentary Commissioner has the constitutional power to cancel elections in whole or in part.  
"The general public is advised that voting has been going on smoothly across The Bahamas since 8am this morning as scheduled and with the exception of a total of three Polling Divisions in Elizabeth and Seabreeze, all other polling divisions will close at 6pm this evening as scheduled.
"Specifically, Polling Division 11 in Elizabeth will close at 8:15 pm and Polling Division 13 has been extended to 6:26 pm due to a medical emergency experienced by a staff member. Polling Division 4 in Seabreeze will close at 8pm.
"Bahamians are urged to disregard these acts of mischief and peacefully exercise their constitutionally guaranteed democratic rights to vote."
4.15pm: Andre Rollins says he has "tremendous confidence" that the FNM's Renward Wells will be returned as the member of Bamboo Town.
3.50pm: INCUMBENT Long Island MP Loretta Butler-Turner said she remains optimistic about her political run as an independent for the constituency.
She said the day has continued "pretty peacefully". However, Mrs Butler-Turner said there was a small incident earlier today where a woman who was close to the privacy barrier in the voting room saw that her mother voted for Butler-Turner and wanted to get the ballot from the box after it had already been placed.

She was able to see how her mother voted because the ballot hadn't been folded properly, Mrs Butler-Turner said.
3.20pm: A statement has been released from the Parliamentary Commissioner about extended voting in Elizabeth and Seabreeze:
"The Parliamentary Commissioner Mr. Charles Albury, wishes to advise voters in the Elizabeth Constituency that due to some technical problems related to a few ballots, voting had to be suspended to allow for these issues to be resolved. In the Seabreeze Constituency, voting was also suspended to resolve some issues.
"In both Constituencies, voting has resumed. However, in order to allow all of the registered voters to exercise their rights to vote the Parliamentary Commissioner, in accordance with Sec. 52 of the Parliamentary Elections Act, has extended the voting hours in the Elizabeth Constituency until 6.15 p.m., with the exception of Polling Division 11 which has been extended until 8.15 p.m.
"In the Seabreeze Constituency voting will be allowed in Polling Division 4 for an additional two hours until 8:00 p.m. The Parliamentary Commissioner wishes to stress that no irregularities were discovered in the electoral process in both of the Constituencies mentioned."
3.15pm: DNA leader Branville McCartney speaks in Bamboo Town today:
3.00pm: Polling stations at the University of the Bahamas for the St Barnabas constituency have been running smoothly with no long lines.
2.00pm: PLP Marco City candidate Norris Bain says he has issues with "voter intimidation" because party agents are too close to the polling stations. Mr Bain said agents should be at least 100 yards from the polling area. He further stated that there are supposed to be two or three agents to be outside the polling stations but the law is being violated.
1.35pm: FNM Candidate for Marco City Michael Pintard is pictured at Mary Star of the Sea School polling station. The voting process is going smoothly there, with no long lines.
1.30pm: FNM Bamboo Town Candidate Renward Wells on election "chaos":
1.15pm: Alfred Sears, PLP candidate for Fort Charlotte, said there had been no issues with ballots as far as he was aware at the St Francis/Joseph Primary School.
"The numbers have been steady . . . and, from the reports that I've gotten from our agents inside of the polls, the opening has gone smoothly," Mr Sears said.
"The voting commenced in a timely fashion and the lines have been moving at a very reasonable pace so we're off to the race so to speak and I'm very optimistic about the outcome."
DNA Polling Officer Charlotte Williams also told The Tribune that there were no reported issues with voting at the St Francis/Joseph Primary School. Williams, who worked polling division no.4, said 89 people had turned out since the polls opened at 8am for that division.
12.50pm: Golden Gates MP Shane Gibson says this turnout this morning was "absolutely wonderful".
12.20pm: Attorney General Allyson Maynard-Gibson has denied that she gave legal opinion that allowed additional names to be included on the Register for last week's advanced poll, as former Prime Minister Hubert Ingraham claimed this week. Mr Ingraham claimed her actions caused last week's delay. 
In a statement released today, Mrs Maynard-Gibson: "As a former Prime Minister, Mr Ingraham is well aware that this is impossible. The Attorney General has no power to add names to the Register. The only person who can add names to the Register is the Parliamentary Commissioner. The law prohibits him from adding any name after the Register has been Certified. In accordance with the law, the Register was Certificated well before the Advanced Poll."  
12.10pm: Prime Minister Perry Christie has responded to reports of issues with today's voting:
 "I'm hoping that all the reports amount to very little because it is difficult for anyone to make a judgment to suspend voting and I'm hoping that that kind of experience can be avoided. I find it inconceivable that there could be any kind of intent to deceive or intent to confuse. We think we have put in place the personnel to prevent that," Mr Christie said.
Mr Christie also remained optimistic that the PLP will be victorious at the polls.
"I did the very best that I could, worked as hard as I could to explain to the people the issues that I think are important to the country. The significant danger that the country faces is an untested opposition, an untested leader, one who has had the unfortunate predicament of not being able to keep a party together," Mr Christie said.
"I've been able to, I think, throughout the length and breadth of the country, communicate what I thought are the important points that would impact the future of our country and our policies that are connected thereto, intended to advance the future, secure the future. And so, having been through this on so many occasions, I am well aware that ultimately it is the people's choice and that the people have expressed themselves and that we have to be satisfied with that expression.
"I'm hoping that the elections will go without any real incidents, that we can demonstrate to the world that we have a high voter turnout, that we can do so peacefully and that whatever happens it can be accepted and the country can move on."
The Prime Minister made his comments this morning at ceremony to remember marines that were killed in the 1980 HMBS Flamingo incident at the Royal Bahamas Defence Force base.
12.00pm: Now you seen him, now you don't: The Progressive Liberal Party had to make a hasty change to its 'Forward Together Bahamians' literature over the weekend after one candidate was omitted from the party's 2017 election line up on Friday. Alex Storr, who is running in Elizabeth, was left out of the glossy pamphlet last week but his picture was hastily added in the reprinted version on Monday.
11.50am: Free National Movement Leader Dr Minnis encouraged Bahamians to always put God first and "never give up on their dreams" after voting, accompanied by his wife, in the Killarney constituency moments ago. Speaking with reporters Dr Minnis said with God's guidance and his own determination he will keep the faith that the FNM will be victorious. He also said he had serious concerns about the irregularities at several polling stations throughout the New Providence and said the issues are a reflection of the current government.
11.20am: Voting was suspended for an hour in the fourth polling division in Seabreeze after it was discovered that officials had the wrong ballot book - reportedly the one for Nassau Village. Thirteen people were said to have voted already at that point before a voter realised and brought the flaw to the attention of officials. Officials have been trying to contact those early voters so they can come back to the polling station to vote - otherwise their votes will not count.
11.10am: Vote at East Grand Bahama Polling Division 12 has been protested and police have been called. Many FNM poll workers are on the scene and a challenge is being made.
11.05am: FNM St Anne's candidate Brent Symonette has said his polling station is missing 121 ballots from the Advanced Poll.
11.05am: Today's Tribune Editorial is now online - you can read it HERE
11.00am: PLP Mount Moriah candidate Arnold Forbes says he's confident of victory at the polls. His FNM opponent, Marvin Dames, was a little more apprehensive in predicting a victory.
10.55am: PLP National Coordinator Valentine Grimes speaks about the situation in Elizabeth:
10.40am: Dr Duane Sands gives an update on the situation in Elizabeth:
10.28am: There are issues with Advanced Poll ballots at the St Annes polling station, the most pressing of which is that 121 missing ballots are said to be unaccounted for – however a PLP official has disputed this. FNM candidate Brent Symonette said if the matter is not resolved they would take the issue to the Election Court. At the moment the parties have agreed to carry on with the poll.
10.25am: PLP legal advisor Valentine Grimes has accused Dr Duane Sands and his team of spreading misinformation and being irresponsible. Mr Grimes said unused ballots that are said to be missing in Elizabeth were never supposed to be included in the ballot box. He also said that Dr Sands and his team are inflaming the situation.
10.20am: Voting has now resumed in Polling Station 11.
10.10am: FNM Candidate for Elizabeth raises his concerns about the situation in the constituency this morning:
9.50am: There are issues in Elizabeth with Polling Division 11 closed. Here is DNA Candidate Prodesta Moore speaking to the media on the situation:
9.45am: PLP Sea Breeze candidate Hope Strachan has said that Nassau Village ballots were mixed in with Sea Breeze.