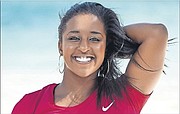 By JEFFARAH GIBSON
Tribune Features Writer
jgibson@tribunemedia.net 
On the surface it may seem like the career of a fitness professional merely entails advising people on how to optimise their health.
However, for Regina Smith there is much more to it. At the heart of her job as the owner of the Energy Fitness Studio is enriching the lives of as many people as possible. Regina has spent most of her life in the world of fitness and is about to celebrate her one-year anniversary as a small business owner.
The Energy Fitness Studio is a personal training, semi private and small group training studio that also offers group training with a personal touch.
Clients like the intimate class sizes or "boutique fitness", she explained. The small groups allow her to work more closely with her clients and give them careful attention so that they can progress safely. 
The studio also offers small group classes in Pilates mat, Total Barre, yoga, high intensity interval training, TRX and indoor spinning. 
Regina said it has been a rewarding experience watching the studio "morph into this vibrant community of people that are dedicated to an active and healthy lifestyle."
Her interest in all things fitness began as she participated in sports and dance in high school. During her childhood and teenage years she studied various ballet, jazz and modern techniques with Lawrence Carrol and Gabriella Szabo.  
"I also played for the junior girls and senior girls soccer team during high school. So I was always involved in movement and conditioning. Naturally, when I graduated I wanted that to continue. I loved the energy and the atmosphere of the gym and just observing the different class offerings as it related to each dimension of fitness. When I left for university and started dancing professionally, Pilates, Alexander technique, weight training and yoga were vital components to keeping the body conditioned for rehearsals and performances. I loved the energy of a gym and I slowly became intrigued and fascinated with the capabilities of the human body as it relates to strength and healing through movement," she said. 
Regina started off as a fitness host at Atlantis' Mandara Spa and Fitness Centre. There, she was introduced to the ins and out of operations at a commercial gym. It was a rewarding experience for her.
"I eventually left Nassau to attend Palm Beach Atlantic University (PBAU). While attending university I completed my personal training certification in addition to the completion of a course in anatomy, physiology, kinesiology, athletic training and conditioning. I also worked as a building manager, lead trainer and fitness event coordinator at the university's recreation department. On my summer breaks I would come home and work for various commercial gyms in Nassau. The most memorable experiences as a fitness professional has been serving as the lead trainer for the National Insurance Wellness Initiative back in 2011 and the Cancer Survivor Clinic at PBAU in 2013," she said.
Regina said she hopes that with her expertise she is able to improve the overall well-being of her clients.
"Being overweight, tired, having severe tightness in muscles and joints, or chronic pain can be challenging and overbearing. I work with clients that have different and distinct needs and goals. There are clients I work with that are focused on weight loss. I also work with an avid runner that's recovering from IT band syndrome. There is another client that has mild chronic lower back pain who's working on developing more core strength. It's always a rewarding experience when I can help a client achieve their weight loss goals, perform daily functional movements with ease, and or achieve their athletic goals. Knowing that they are experiencing a better quality of life while achieving their goals makes it all worth it," she said.
Another way she has been able to help people is with a monthly fitness column published in Tribune Weekend. 
But the best part of her journey so far, she said, has becoming an entrepreneur. 
"I grew up in a small business household. My father has always encouraged me to step out on my own and pursue this venture. When I first stepped out with Energy Fitness, I had the last installments from my personal training clients, one ballet barre, no mirrors and a stereo system I bought three years ago. I had enough to order a few yoga/Pilates mats. I worked with a family friend to paint the walls and install the ballet barre. I invested previously in a few pieces of versatile mobile exercise equipment and I was just ready to get started. I knew that if I could get that first client in the door and offer them a top quality workout that would be a great start. I applied the same concept to my barre and other class offerings. The focus was to create a valuable and memorable experience for the clients. If they enjoyed their experience, they would share it with their friends – and so they did. As I went along, I continued to reinvest into the studio. Here we are today, by God's grace, growing steadily and continually building on what we have and improving," she said.
"I know I'm only in my first year, but I'm hoping that my story and courage to step out will inspire other young women to step out and pursue their goals of small business ownership."