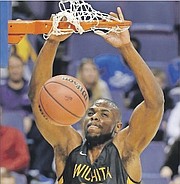 By RENALDO DORSETT
Sports Reporter
rdorsett@tribunemedia.net
JUST weeks after losing the league championship series, Kadeem Coleby was on the move once again and inked a deal with the team that most recently beat him as they prepare to vie for a top title in the Middle East.
Coleby signed with Al Manama for the 37th GCC Clubs Basketball Championship Tournament, hosted in Um Al Hassam, Bahrain.
 Al Manama won their first two games of the tournament thus far after they opened with an 82-50 win over Ettifaq of Oman. Coleby finished with 13 points and five rebounds. They followed with a 108-90 win over Al-Rayan of Qatar yesterday.
Al Manama finished third out of the eight teams in last year's GCC and look to improve on last year's finish with the additions of Coleby and formber NBA pro Nikoloz Tskitishvili.
Eight of the top local teams in the Middle East will are vying for the prestigious title, which concludes Saturday, May 20.
The two finalists will also qualify for the 2017 FIBA Asia Champions Cup to be held in China this September. Hosts Bahrain have  two teams in the tournament. The UAE and Qatar also have two teams apiece. Saudi Arabia and Oman have one each while Kuwait are not taking part.
 During the Bahrain Premier League, Coleby was a member of Al Muharraq and was an integral part of the team's run to the Cup final and league runners-up after a loss in championship series to Al Manama.
 The prior season, in 2015, the former Wichita State Shocker was a key member in Al Manama's title run last season – their fourth consecutive and 20th overall.
 He finished with 23 points in the season finale.
 In the previous season, the 6'9", 250-pound forward played with Al Fateh Al Hasa of the Saudi Arabian Premier League.
 He contributed to his team making it to the final after they ended the regular season as the second best team. He prepped himself for his professional debut with Geneva in Eurobasket Summer League in Las Vegas, which is considered the top summer league for players seeking to make the pro leap to Europe.
 After a collegiate career which included stops at Odessa Junior College and Louisiana Lafayette, Coleby found a home in his senior season at Wichita State.
 In his senior season, Coleby ended up with an average of 12.9 points per game. In their 36 games, in which he started 19 times, Coleby shot .360 per cent from the field (38-for-84) and .500 per cent from the free throw line (18-for-36) for a total of 96 points or an average of 2.6 ppg.
 On the national team level, he was also a member of the Caribbean Basketball Confederation Championship gold medal team in 2014 and Coleby averaged 10.8 points per game.It was the seventh time a Bahamian men's national team has captured the CBC title, and the first time since 1995.
 The team advanced to the Centrobasket tournament where they failed to qualify for the Tournament of Americas. Coleby averaged 7.8 points and 4.5 rebounds per game at the Centrobasket, hosted in Nayarit,  Mexico. 
He averaged 9.5 points and 4.9 rebounds for Louisiana-Lafayette in his junior season, starting 30 games. He also blocked 2.4 shots a game and led the Sun Belt Conference in shooting percentage (56.1).
 He scored double-figures 15 times, including a career-high 20 against Central Florida and also had a career-high 11 rebounds at Duquesne. He also was ranked 23rd in the NCAA in blocked shots.
 As a sophomore at Daytona State College, he averaged 10.2 points and 8.1 rebounds. He also received first team All-Mid-Florida Conference honours, was ranked fifth in Region VIII in blocked shots per game (2.4) and eighth in rebounds.