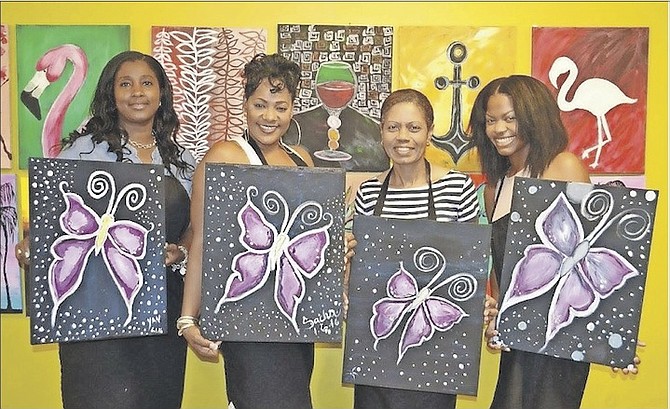 By ALESHA CADET
Tribune Features Reporter
acadet@tribunemedia.net 
Last Friday, the team at Big Picture Paint and Sip Studio at Sandyport partnered with the Lupus 242 support group in an effort to spread awareness of the chronic autoimmune disease in a fun and artsy way.
"This was our first time hosting the event and it feels great to be able to support Lupus 242 in this way and continue to increase awareness," said Big Picture Paint and Sip Studio founder Gennyne Hepburn. 
For her it was important to mark the studio's one-year anniversary not only with customer giveaways, but also with a giveback event for a local charity. 
"We chose Lupus 242 because it is a group that I have personally supported in the past. The painting experience tends to be therapeutic and unique for the vast majority of people that come to our studio at Sandyport. Therefore, it would be the ideal activity for those who have and are being impacted by lupus, either personally or indirectly," said Ms Hepburn.
According to Lupus 242, the chronic autoimmune disease affects an estimated 5.5 million persons worldwide. Studies show that lupus is caused by several factors including genetics, environment and hormonal imbalances in the body. Lupus is often hard to diagnose with symptoms ranging from severe pain, fatigue and unexplained flare-ups impacting random parts of the body especially internal organs. 
There is no known cause for the disease and presently statistics on the number of persons in the Bahamas living with lupus are limited. May is recognised as Lupus Awareness Month around the world.
A purple butterfly was chosen as the subject to paint at the event. Organisers explained that the butterfly is recognised as the official symbol of lupus and purple is the colour attached to the cause.
"It was only fitting for event participants to paint one of our original designs titled 'Purple Butterfly'. Here at Big Picture we guide you through the process of transforming your blank canvas into a memorable work of art. We encourage our guests to paint, sip, mingle, and have fun while supporting a nice cause. No prior painting experience is required," said Ms Hepburn.
She also said it is the studio's hope that last week's participants were able to build new relationships and take home a painting that will remind them of the cause and the effort to find a cure for lupus.
"It is our hope to continue a partnership where our company can host an annual fundraiser in support of the charity. We're all human. We need to be there to support others with unique life-changing experiences. We all have the opportunity to make an impact on our communities, and so if a paint and sip party at Big Picture Paint and Sip Studio can do that, we're in," said Ms Hepburn.
To support the cause, persons can purchase Lupus242 T-shirts, wristbands or car bumper stickers. Proceeds go towards local awareness initiatives and global research. For more information on the group and upcoming events, visit www.facebook.com/lupus242, e-mail lupus242@outlook.com or call 525 9967.