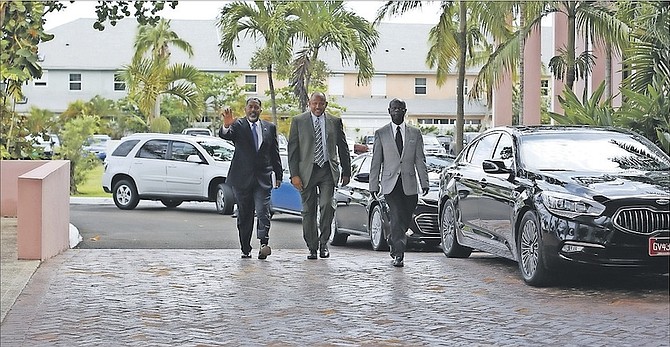 By SANCHESKA DORSETT
Tribune Staff Reporter
sdorsett@tribunemedia.net
MINISTER of Health Dr Duane Sands said yesterday the Free National Movement will not cancel National Health Insurance, however, he said, the new administration will take a more "practical and realistic" approach to the plan.
In an interview with The Tribune after his first Cabinet meeting as health minister, Dr Sands said NHI is a priority for him and he hopes to meet with the NHI team as early as today to get a better understanding "of what needs to be done," but he said he does not have enough information at this time to be able to "map the plans way forward under the FNM".
"We do not have enough information about the plan at this moment for me to give you more than just a glib response," Dr Sands said yesterday.
"I have to find out the status of NHI and I hoped that I will be briefed by the NHI team as early as tomorrow (Wednesday) and once that is done I will know where we stand and I will be able to speak with some degree of sense.
"As you can imagine it is hectic but NHI is a priority. We know there is a tremendous amount of anticipation and hope surrounding NHI and there has been some misinformation that we will cancel the plan and that is not the case. Prime Minister Minnis has made it clear that NHI is important, it just needs to be adjusted. We have given a conceptual approach to NHI and now we have the instruments in our hands for us to modify it and change it how we need to make it a practical and realistic plan."
Since launching last month, more than 6,000 people have registered under the enrolment phase of NHI. While on the campaign trail the Progressive Liberal Party repeatedly claimed that if elected, the FNM would cancel NHI. However, in the FNM's manifesto, the party said it would implement a functional National Health Insurance plan with a robust catastrophic health-care component.
The FNM, in its Manifesto 2017, said "all Bahamians should have easy access to affordable excellent healthcare and during our term in office we will as a priority upgrade the present health infrastructure, ensure easy and affordable access by all Bahamians to primary, secondary and tertiary, including critical care, provide patients with the right to choose, develop a system that is viable and sustainable (and) embrace a national healthy lifestyle programme to entrench a preventative and wellness strategy to effectively deal with the scourge of the many related lifestyle illnesses."
"In order to maximise the quality of care, an FNM government will implement a functional NHI plan with a robust catastrophic healthcare component."
Former Prime Perry Christie heralded the "historic" launch of the enrolment phase of NHI in April, expressing his delight in serving as the nation's leader while "ushering in" one of the "most significant interventions in the history of this country."
With the launch, Bahamians will now be able to choose their primary care physician from a list of over 60 doctors, which include family medicine practitioners, general practitioners, internists, obstetricians, gynaecologists and paediatricians.
The former government planned to have between 140 and 150 primary care providers (PCPs) incorporated into NHI, with plans to augment the private sector offering with the services of primary care providers in the public sector, the Department of Public Health and the Public Hospitals Authority (PHA).
NHI officials have said patients have already started receiving primary care treatment under the programme.