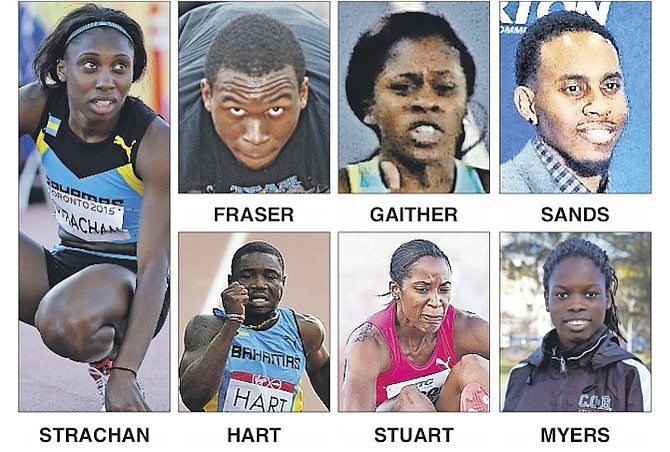 By BRENT STUBBS
Senior Sports Reporter
bstubbs@tribunemedia.net
Anthonique Strachan, making her individual debut after running on the women's 4 x 400 and mixed gender 4 x 400 metre relays here in the IAAF World Relays last month, led a list of eight Bahamians in action at the Guadeloupe Invitational.
On Wednesday night, Strachan raced to second place in her specialty in the women's 200m in 23.04 to trail American Jenna Prandini, who won in 22.70.
Also in the race was TyNia Gaither, who helped the women's 4 x 100m relay team qualify for the IAAF World Championships - set for London, England in August - at the World Relays. Gaither picked up a sixth place in 23.47.
National record holder Bianca Stuart, competing in her second straight meet, finished fourth in the women's long jump with a leap of 6.52 metres or 21-feet, 4 ¾-inches.
American Brittney Reese had a world-leading mark of 6.98m (22-10 ¾).
Another female, Tamara Myers came in sixth in the women's triple jump with her leap of 13.62m (44-8 1/4). Yulimar Rojas of Venezuela of Haiti was the winner in 14.67m (48-1 3/4).
On the men's side, Warren Fraser sped to a fourth place finish in 10.29 in a highly contested event that saw American Mike Rodgers pull off the win in 10.08 over Canadians Andre De Grasse (10.10) and Akeem Haynes (10.23).
Shavez Hart came in third in the men's 100m B final in 10.40.
Sean Stuart was fifth in 10.64. The race had Dentarrius Locke, an American from Florida, winning in 10.18.
The other Bahamian competing in the meet was national record holder Leevan 'Superman' Sands, who was sixth in the men's triple jump with 16.26m (53-4 ¼).
Will Claye, the 2016 Olympic silver medallist, captured the title with his leap of 17.40m (57-1) as he led an American sweep of the top three spots.
The next meet will be the Jamaican International Invitational at the National Stadium in Kingston on Saturday. A number of Bahamians are expected to participate in the meet.