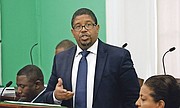 By RICARDO WELLS
Tribune Staff Reporter
rwells@tribunemedia.net
THE government has not been able to finalise the scope or overall price tag of the round of audits it ordered on several government run agencies, corporations, and offices last week, this confirmed by Deputy Prime Minister and Minister of Finance K Peter Turnquest yesterday.
In an interview with The Tribune on Sunday, the East Grand Bahama MP-elect indicated that the new government had decided to start its initiative with internal "audits and assessments," with plans to "expand out" if the results deem it necessary.
To that end, Mr Turnquest said the government would be unable to determine exactly how much it would have to spend to carry out the audits, nor would it be in a position to do so until it concluded its appointments of essential personnel over the coming weeks.
Last week, the Minnis administration announced that it would conduct forensic audits into Urban Renewal, Bank of the Bahamas (BOB) and the Bahamas Agriculture and Marine Science Institute (BAMSI), among others.
The government has also said that all Cabinet ministers will conduct audits within their respective ministries.
Contacted yesterday for a status report on these proposed audits, Mr Turnquest said: "(No audit) is concluded as yet, however the first round will be internal audits and assessments."
He continued: "We will expand out from there depending on results. As such, the cost of the exercise is not determined at this point."
When pressed on when the country can expect a clear price tag for the proposed audits, Mr Turnquest added: "We will determine after new Boards are seated and assessments done."
In its initial calls for the audits, the new administration suggested that the move was made primarily to bring about greater efficiencies within ministries and departments across the public service.
The Minnis administration said it was seeking to curtail unnecessary expenditure and the results of these audits will assist it in determining the way forward.
It added that where persons are found to be in breach of the Financial Administrative & Audit Act, the law will take its course.
Last Wednesday, Algernon Allen revealed that he and Cynthia "Mother" Pratt had resigned as co-chairs of Urban Renewal earlier this month, noting that the pair had no concerns about what the audit may reveal as their role was largely "ornamental".
Also last week, Minister of State for Grand Bahama Kwasi Thompson revealed he had suspended aspects of the initiative in Grand Bahama, expressing grave concerns over how the programme operated under the previous administration.
New FNM senators and parliamentary secretaries will be sworn in at Government House today.