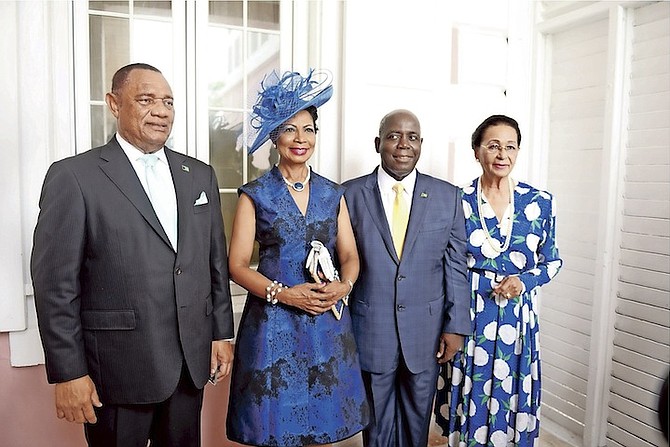 By RICARDO WELLS
Tribune Staff Reporter
rwells@tribunemedia.net
THE Progressive Liberal Party is expected to make public its list of its Senate choices today, this as Official Opposition Leader Philip "Brave" Davis confirmed yesterday that he had concluded his "period of deliberation" and had centred on "the best mix for the legacy and continuance" of the party.
In an interview with The Tribune on Sunday, the Cat Island, Rum Cay and San Salvador MP-elect indicated that he was in the process of notifying the persons who would comprise the Official Opposition's team in the Senate.
Despite not naming any of the expected appointees directly, Mr Davis said the group would be "eager" to approach business in the Senate on behalf of the PLP.
"I have maintained in recent days that we are hoping to reflect and project what the future holds for this party through our appointment," the former deputy prime minister stated.
He continued: "We wanted to give Grand Bahama a voice; the issues there need to be addressed and I think we will achieved that with one of our selections.
"Additionally we want the group to be guided by the history and legacy of the party; that will be reflected when we make our announcement this week.
"The other two will, like I said, project what the future of this party will look like as we move to reconstruct this great party."
The PLP's Senate caucus will be officially sworn in during a ceremony at Government House on Tuesday.
During a ceremony last Friday, in which he accepted his instruments of appointment to become the new leader of the Official Opposition from Governor General Dame Marguerite Pindling, Mr Davis dismissed speculation that the PLP is in a state of despair.
He contended rather, that a spirit of "determination and excitement about moving forward" had already begun to resonate amongst officials and supporters.
Mr Davis at the time said that the PLP was poised and ready for "a new beginning" with him at the helm.
The PLP was crushed at the polls on May 10, ushering in the end of the Christie regime.
Of the defeat Mr Davis said on Friday: "Last week's results should prompt real and thorough self-examination; and indeed that process has already begun. It is a process we intend to undertake unflinchingly with both humility and candour."
"We do so with a sense of urgency too, because we believe that the values and missions of the Progressive Liberal Party must remain essential and indispensable to our country.
"We are ready to renew the promise of our party for a new generation of activists, servants, supporters and fellow citizens. This process will begin on the ground and extend into every community throughout our country."