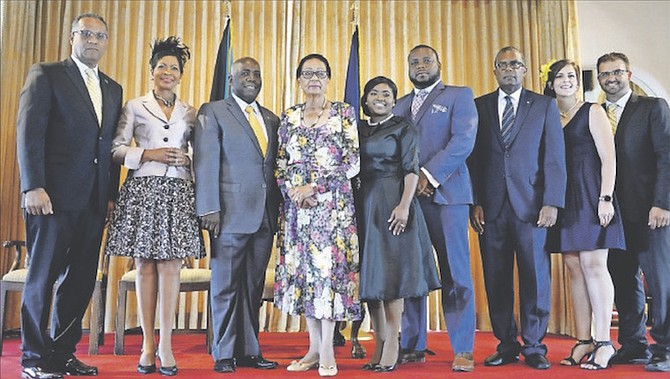 OFFICIAL Opposition Leader Philip "Brave" Davis said yesterday he is confident that the four newly-appointed Progressive Liberal Party (PLP) senators will be vigilant and correct misinformation when they begin work in the Upper Chamber.
Mr Davis said the Official Opposition's parliamentary team should be regarded as instruments of nation building and not agents of national disunity and unnecessary conflict.
He was speaking during the swearing in of former Foreign Affairs and Immigration Minister Fred Mitchell, former Minister of Grand Bahama Dr Michael Darville, former PLP election candidate Clay Sweeting and attorney Jobeth Coleby Davis as opposition senators at Government House. 
"At the same time, however, I wish to emphasise that as Her Majesty's Loyal Opposition in both houses of Parliament we have the responsibility to provide vigorous dissent in those instances where it is warranted," Mr Davis said. "It is also our duty to be vigilant and correct misinformation lest it obscure the truth or lead to what is now popularly referred to in discourse of our great neighbours to the north as the alternative reality.
"You will find that our senators or MPs alike will not hesitate to set the record straight."
For her part, former Attorney General Allyson Maynard-Gibson said the team was "strong" in her view. "I think it's a fabulous team. So I think that the Bahamian people can expect strong governance and the opposition will ensure that that happens," she said.
Meanwhile, parliamentarians and other dignitaries will convene in Parliament and Rawson Squares today for the opening of Parliament and the reading of the Speech from the Throne. This will mark the start of the new administration's legislative agenda.