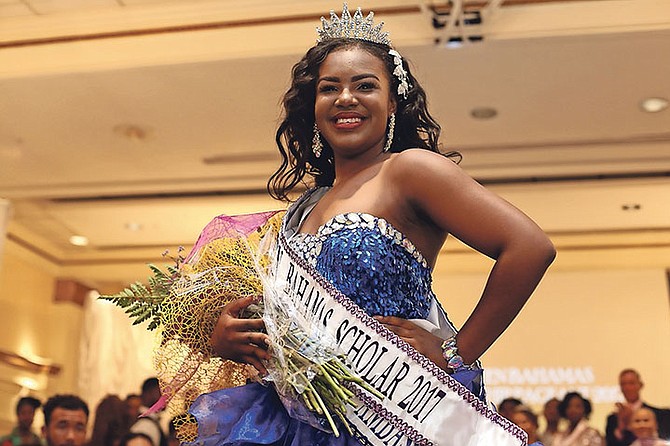 By JEFFARAH GIBSON
Tribune Features Writer
jgibson@tribunemedia.net
AFTER weeks of engaging in intensive training sessions and personal development activities, 16-year-old Waynisha Sha'Dea Saunders was crowned the new Miss Teen Bahamas on Sunday night.
The 11th grade C V Bethel Senior High School student won the judges over with her poise, intellect and charisma during the pageant finale held at the British Colonial Hilton.
Twenty young women vied for the coveted title of Miss Teen Bahamas, however, it was Waynisha who walked away with the grand prize, which includes a $90,000 scholarship package to attend Liberty University in Virginia.
The first runner-up and second runner-up received $30,000 and $22,000 scholarship packages respectively. All other contestants who completed the pageant programme each received a $18,000 scholarship package.
A key part of the Miss Teen Bahamas pageant experience is its enrichment programme. It is comprised of workshops on interview techniques, public speaking, self-defence, financial management, film production, modelling and makeup application.
Additionally, the contestants all must have good grades, be community service-minded and be able to passionately articulate a platform cause. The enrichment programme's overarching objective is to prepare participants for university.
The pageant organisation has recently undergone a rebranding exercise and name change. It is now officially called the Miss Teen Bahamas Scholarship Programme, in keeping with the organisation's mission to prepare young women for productive careers and identify future leaders of the Bahamas.
Anthony Smith, president of the organisation, emphasised that Miss Teen Bahamas is not a beauty pageant, but rather focuses on personal development for young women.
"I honour the judges' decision because they understand the concept of the Miss Teen Bahamas. They know that it is not a beauty pageant. When selecting the winner there are several things that are taken into consideration - their grades and how well they can articulate their platform - because at the end of the day the winner has to be spokesperson not just for the organisation but for Liberty University as well," he said.
Mr Smith said while there could only be one winner, all of the young women who participated throughout the past few weeks are winners in their own right.
"It was a tough competition, but Waynisha is a great choice. She has always been a hard-working young woman. All of the young ladies were talented and they all got something, but at the end of the day we have to narrow it down to one person," he said.
The accredited Liberty University, which the Miss Teen organisation decided to partner with, is located in the picturesque Lynchburg, Virginia. It offers students a world-class education with a solid Christian foundation. Liberty has grown to become the United States' fifth largest university and the world's largest Christian university.
After the winning the title in 2014, Ariannah Wells-Bain is expected to matriculate at Liberty University this Fall. A former contestant from the 2016 pageant, Ianna Cartwright, made full use of her $18,000 scholarship prize package and is now majoring in Sign Language and Special Needs Children Care at the university.
As for Waynisha, she has another year of high school left before she has to make a decision regarding her tertiary education.