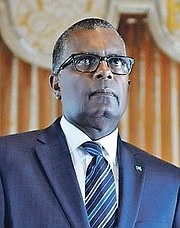 By RICARDO WELLS
Tribune Staff Reporter
rwells@tribunemedia.net
PROGRESSIVE Liberal Party Chairman Fred Mitchell yesterday raised concern over the recent termination trend in the public sector, insisting the Minnis administration has actively been "chipping away" at the country's labour force in the civil service.
In a statement, Mr Mitchell said the government has established a "modus operandi" of "sending people home to collect unemployment benefits or social assistance" in the public service - a trend he claimed the private sector has opted to mirror.
He claimed in addition to the 18 workers who were fired from the Gaming Board and eight people recently said to be dismissed from the foreign service; workers with contracts in the public service who are connected with the PLP are being laid off with one month's notice.
Mr Mitchell also highlighted this past August, at least 27 employees of the Ministry of Tourism were released and another 15 people were recently fired from the Bahamas Agriculture and Industrial Corporation (BAIC).
The former Fox Hill MP also said 21 employees at the National Insurance Board (NIB) were terminated in June of this year, and in recent months, the National Health Insurance Authority (NHIA) has let go at least 42 people.
"Again, being PLP appears to be their only sin," Mr Mitchell stated.
On Wednesday The Tribune reported that about 18 people were recently let go from the Gaming Board.
This comes as the government has stepped in to try to prevent the terminations of about 100 contracted workers at BTC.
Brensil Rolle, minister of the public service and National Insurance, has said between December 2016 and May 2017, the government's payroll ballooned by $16.5 million due to the Christie administration's hiring of new public service workers during that period.
More than 1,700 people were included in this count. According to Mr Rolle, the public service increased by 6,500 people over the last five years, during the last Christie administration.
However, Mr Mitchell said the FNM, through its "mean-spirited and regressive" economic policies, has set in motion an attack on the workers across the country.
Mr Mitchell contended: "In the private sector, we now learn that BTC has told it's so-called independent contractors to sign or be dismissed.
"This is a consequence, of course, of the bad decision of the FNM government in its previous term in office to sell BTC at a fire sale price to those who did not have the best interest of the Bahamian people at heart.
"Down in Mathew Town, Inagua people are in an uproar because a popular employee at a senior level was dismissed," he claimed. "The citizens there are calling for immigration to intervene."
To that end, Mr Mitchell said the PLP will be meeting with the labour sector to see how the party can help moving forward.
The country's unemployment rate, according to the latest Labour Force survey, is 9.9 per cent, however this is a decline from 11.6 per cent.