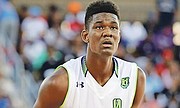 By RENALDO DORSETT
Tribune Sports Reporter
rdorsett@tribunemedia.net
Another exhibition game, another big time double double for DeAndre Ayton as he led the Arizona Wildcats to another win.
The freshman forward finished with 21 points and 11 rebounds in the Wildcats' 91-53 win over Chico State on Sunday at the McKale Center in Tucson, Arizona.
He shot 6-9 from the field, made his only three-point attempt, was a perfect 8-8 from the line and added three assists in just 26 minutes.
"We work on defensive rotations a lot in practice, defence is first for coach Miller so this is what we do, I can guard any position. I like shooting, I'm very comfortable, I want to be a versatile player for the next level. They were doubling the post and I just saw it coming from a mile away.
Arizona took a 13-0 lead from the opening tipoff and led by as much as 39 points.
Junior guard Allonzo Trier finished with a team high 22 points and said Ayton has been a quick study learning the team's concepts as a freshman. "He's intelligent, he's listening to everything coach asks him to do, he has the God-given talent to make up for a lot of things as well so it's not hard for him to be able to grasp what we're trying to do and to be very good at it as well," he said.
ESPN recently ranked their projection of the top 50 players in college basketball with Ayton listed at No.12.
Wildcats head coach Sean Miller said Ayton's versatility on both sides of the floor is a catalyst for the performance of the entire team. "It's not easy at 7-foot, 260 pounds to move like he moves on the court and a lot of guys his size will only play the five so they'll only guard centres. The way we are playing I think it will really help his development and give our team a different look. He gets to guard the other team's four at times. So we're asking him as a freshman to guard guys that are 6'5" or 6'6" who can really shoot the three.
"I think the more you challenge him I think the more he'll grow and with his growth defensively I think he'll give our team good characteristics," Miller said. "He's a very good three-point shooter, he's also a very good free throw shooter. We watch it everyday so what he does in games is pretty much what you see on a daily basis. He's a very good player, that speaks for itself. He's a very good teammate, he's a very hard worker, he's bright and for somebody as talented as he is it's very fun to watch him play the game and be as intelligent as he is. That becomes contagious too. When that guy makes the right play and is unselfish it's difficult for anyone else to deviate."
Arizona is scheduled to face Northern Arizona 7pm Friday at the McKale Center as the regular season officially tips off.