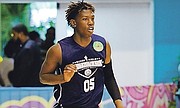 By RENALDO DORSETT
Tribune Sports Reporter
rdorsett@tribunemedia.net
BAHAMIAN players at the junior college level are looking to have strong sophomore seasons and position themselves for an opportunity to eventually transfer to an NCAA programme.
Sebastian Gray of the Northern Oklahoma-Enid Jets and Daejour Adderley of the San Jacinto-Central Ravens recently opened their seasons with their respective programmes.
Gray is one of just five sophomores and is the second leading scorer of all returning players on this year's squad. He dropped a season high 25 points in Wednesday night's 75-70 loss on the road against Coffeyville. In 35 minutes, Gray shot 9-18 from the field, 5-9 from three and added six rebounds.
Through three games, the 6'6" wing is averaging 14 points and 5.7 rebounds per game while shooting 42 per cent from the field, 40 per cent from long range and 80 per cent from the free throw line.
The Jets will host Bethel JV tonight as they look to regain a .500 record.
Last year as a freshman he appeared in 25 games and averaged 11.9 points, 8.1 rebounds and 2.2 assists per game. He shot 43 per cent from the field, 75 per cent from the free throw line and 33 per cent from three. He reached the 20-point plateau in three games, scored in double figures 16 times and posted six double doubles.
Adderley started the first two games of this season for the Ravens after playing an exclusively reserve role as a freshman.
On opening night he scored eight points with four assists and three steals in 26 minutes of an opening day 33 point win over Lone Star College – Kingwood. He followed with another eight points and two steals in a 78-77 loss to Clarendon.
As a freshman he appeared in 29 games and averaged just 2.1 points and 1.3 assists per game. His single game season high for minutes played was just 17.
Both players are members of nationally recognised programmes that reached the NJCAA tournament last year.
NJCAA Division I men's basketball is comprised of 16 districts across the country and the champion of each district receives an automatic bid to The Tournament, which is a 24-team, single-elimination championship.
Adderley and the Ravens were the top overall seed in the tournament, but were eliminated in the quarter-finals. As the number one seed they received an automatic bye to the second round where they scored a 115-77 win over Connors State. They followed with the 98-82 upset loss to Northwest Florida State.
It was their 21st tournament appearance in school history. San Jac earned the automatic bid to the national tournament after they won the Region XIV championship.
Gray and Robert Joseph helped lead the No.23 ranked Jets to an opening round upset win. The Jets scored a 95-90 win over No.10 Southern Idaho Golden Eagles. Gray finished with 13 points, 10 rebounds and two blocked shots while Joseph added two points off the bench. In the second round, they were eliminated 82-76 at the hands of the Vinciennes Trailblazers, ranked No.7 in the bracket. Gray finished with seven points and 11 rebounds.