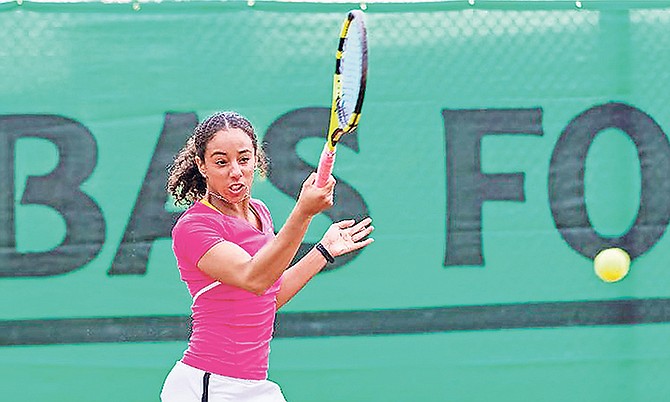 By BRENT STUBBS
Senior Sports Reporter
bstubbs@tribunemedia.net
Although she didn't make it to another final, Kerrie Cartwright wrapped up her two tournaments in Colombia by getting an Women's Tennis Association (WTA) women's ranking.
Playing in her second straight tournament, this time in Cucuta, Cartwright got ousted in the second round of the women's singles, losing 7-5, 6-1 to American Anastasia Nefedova - the No.3 seed.
And her American doubles partner Kariann Pierre-Louis, the No.8 seed, suffered a 6-2, 6-3 loss to Maria Camilia Osorio Serrano of Colombia in the second round as well.
Also at the ITF Women's Circuit, Cartwright and Pierre-Louis got eliminated by the team of Safia Munera Sanchez from Colombia and Noella Zeballos of Bolivia. The final score was 7-6 (3), 0-6 (10-6).
The week before, Cartwright played in Pereira where she got knocked out in the second round, losing 1-6, 6-2, 6-3, while Pierre-Louis lost 6-0, 6-2 to No.5 seed Emily Appleton of Great Britain.
Cartwright, 25, and Pierre-Louis, 18, got to the final in doubles, but lost 7-5, 2-6 (10-7) to Emily Appleton of Great Britain and Maria Fernander Herazo Gonzalez of Colombia.
"Overall, both tournaments were really, really good," Cartwright told The Tribune. "I thought it was a great decision for me to come here because I got my world rankings so I will be ranked in the world and not just nationally.
"So that's a big step for me getting into more tournaments. It takes three tournaments where you earn points to get a ranking and this last tournament, I got another point to get my ranking."
The WTA releases its rankings every two weeks so Cartwright will have to wait and see where she is pegged on the new list. But she admitted that she's excited just to get on the list. "It's definitely an obstacle to overcome as a female," Cartwright said about her journey to get to this stage in her career. "It normally take a long time to get your ranking.
"You could do very well in one tournament, like I did in France where I made quarter finals, but I played five or six tournaments and I didn't win a match so it couldn't go towards my ranking. But it's good that I am finally going to get my ranking."
With the ranking, Cartwright said she will be able to get directly into the main draw of some of the tournaments like Pierre-Louis and not have to work her way through the qualifying round.
In the meantime, Cartwright said she was hoping that she and Pierre-Louis would have advanced further in doubles, but she said the two tournaments they played in Colombia has really boosted their confidence.
Cartwright will return to the United States to continue her training. She's contemplating going to Manta, Ecuador to compete in her next tournament from November 27 to December 3.
"If I don't get in to play in that tournament, then I will continue to train before I come home to play in the Bahamas Nationals in December," said Cartwright of the Bahamas Lawn Tennis Association's annual Giorgio Baldacci Open.
The BLTA will hold the Giorgio Baldacci Open from December 18 at the National Tennis Center. The open will serve as the trials for both the Fed Cup for women and the Davis Cup for men.
"When I come home, I expect to do my best and ply my best and at the end of the day, I get the wins. That's what I'm working towards," she insisted.
No date has been set for the Fed Cup, but Cartwright is also hoping that she will make the team that will head to the Central American and Caribbean Games, scheduled for July 19-August 3 in Barranquilla, Colombia.
"I'm just looking forward to everything and hopefully being on the Fed Cup team again next year," said Cartwright, who last represented the Bahamas
Cartwright missed the opportunity to represent the country the last two years because she had to undergo surgery on her foot the first year and last year she couldn't leave the United States as she working on her visa.
Following in the footsteps of her mother Kim O'Kelley, one of the country's most dominant female players, Cartwright first placed Fed Cup in 2008 and made five teams, playing a total of 22 matches, posting a 14-6 win-loss record in singles and 6-6 in doubles for a 20-12 overall record.