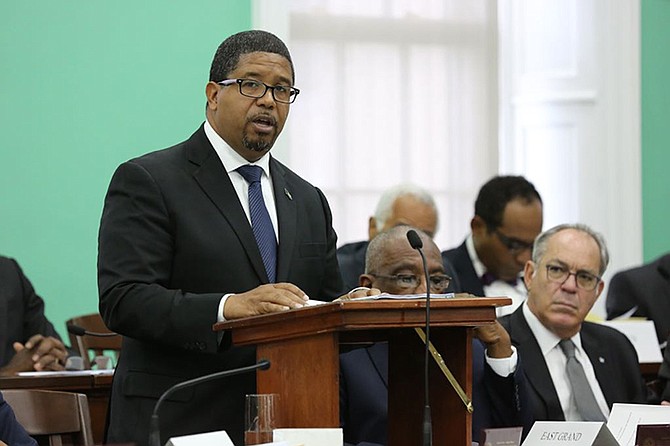 By NEIL HARTNELL
Tribune Business Editor
nhartnell@tribunemedia.net
The Government is aiming to raise up to $800 million via a US dollar bond to cover its deficit financing needs for the current and previous fiscal years, Tribune Business can reveal.
K P Turnquest, deputy prime minister, and Marlon Johnson, the Ministry of Finance's financial secretary, are both currently on a week-long trip through the world's financial capitals to raise investor support for the borrowing.
Both men were yesterday tight-lipped on the details of the Government's financial plans, although Mr Turnquest effectively confirmed they were on a capital-raising mission.
"No comment until the placement and pricing done. Securities rules," Mr Turnquest, who is also minister of finance, said in response to Tribune Business's inquiries.
Mr Johnson, who confirmed the duo were still travelling abroad, said: "We just can't comment on anything related to that right now. We may be in a position to comment in a few days."
Well-placed Tribune Business contacts, familiar with the Government's plans, said it was seeking $800 million via the placement of a bond (a paper IOU that represents debt financing) on the global capital markets.
This newspaper was informed that Royal Bank of Canada (RBC), the Government's banker, and Deutsche Bank were acting as the advisers and placement agents for the issue.
The Government's decision to meet the bulk of its deficit financing needs outside the Bahamas is likely to cause some concern in the local financial community, both over the price (interest rate) attached to the issue and the impact on this nation's foreign currency reserves.
The Bahamas' downgrade last Christmas to 'junk' status by Standard & Poor's (S&P), and near-similar downgrade by Moody's in the summer, means that this nation will likely have to pay a higher price/interest rate because its credit risk has increased.
This, in turn, means an increase in the Bahamas' debt servicing costs, which will suck more money away from essential public services such as education, health, social services and the police/national security to pay this nation's foreign creditors.
And an increase in the Bahamas' foreign currency debt, especially that portion in the hands of external creditors, means this nation will have to seek a greater increase in foreign exchange earnings from tourism and foreign direct investment (FDI) to ensure the foreign currency reserves are not depleted by the extra debt servicing costs.
Central Bank data for end-June 2017, the latest available, revealed that the Government's total foreign currency liabilities were then equivalent to 26.8 per cent of the direct charge on government, standing at $2.641 billion. The national debt stood at $7.263 billion at end-June 2017, and this financing will likely push it close to the $8 billion mark.
"That'll take us way over 30 per cent [of total government debt]," one Bahamian capital markets source, speaking on condition of anonymity, said of the Government's latest planned borrowing. "We've got to get control of this country." That calculation, though, is likely based on GDP levels prior to the near-28 per cent increase from the National Accounts revision.
Tribune Business understands that only $550 million of the proposed $800 million bond facility is likely to be 'new money'. The balance is likely to be used to repay the $250 million short-term loan that Deutsche Bank gave the Government on September 14, 2017.
Several sources informed this newspaper that, given the size of the 2016-2017 fiscal deficit left by the Christie administration and the borrowing needs for 2017-2018, the Government felt it would have to seek at least $500 million of financing on the international markets.
With total borrowing needs estimated at $722 million for the combined two fiscal years in the May Budget, the belief was that the Bahamian capital markets may only be able to provide a limited amount - especially since the likes of banks and insurance companies have restrictions on how much government debt they hold.
The Government's borrowing requirement, though, may have increased considerably as a result of the 2016-2017 fiscal deficit increasing from the initially projected $500 million to almost $695 million - a rise of almost $200 million.
The Deputy Prime Minister and Mr Johnson, whose trip is understood to have included London, the US and European financial capitals, will have been taking market soundings - assessing institutional investor appetites and selling them on the merits of Bahamian government debt - in a bid to determine how much can be borrowed, and at what price/cost.
James Smith, a former Central Bank governor and state minister of finance, had earlier this year expressed misgivings about the size of the Bahamas' foreign currency debt relative to the total, saying he wanted it to be 25 per cent or below.
"We want to keep that down for many reasons," he told Tribune Business in July 2017. "It's still in a manageable range, but I'd prefer it to not be higher than 25 per cent. I'd prefer it to be lower."
Mr Smith said increased foreign currency debt servicing payments were worrisome because they sucked money from the external reserves, and reduced the amount of foreign exchange available for physical imports.
"In our case it has a lot to do with the current account and maintaining parity with the US dollar," he told Tribune Business. "The Central Bank reserves are used to cover the big gap in the current account, and allow us to import on a one:one basis.
"That becomes weaker the larger the portion of foreign debt is to the overall debt. Foreign currency that is normally used for importing and feeding the population now goes to debt servicing."
He added: "You really don't want debt payments eating up all foreign exchange reserves that you use for all the imports. It's such an open economy that we have to import from the US to feed our tourists.
"If that is ever constrained because we are using that money to pay debt, we will be unable to satisfy the requirements of our major industry for imports. You really don't want to be using that hard currency for servicing debt."
Mr Smith said that apart from monetary pressures, the Bahamas also needed to keep its foreign-owned relatively low should a restructuring ever become necessary.
"Foreign bond holders are less likely to be amenable to reorganising if you have to reschedule your debt," he told Tribune Business. "Most of the Bahamian dollar debt is held by national institutions, such as NIB and the banks."