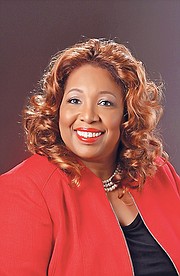 By FELICITY INGRAHAM
Marisa Mason-Smith has been named "Focused Woman of the Year 2017" at the culmination of last week's three-day Focused Woman International Summit, which introduced a slate full of dynamic women leaders to the country for a three-day retreat at Comfort Suites, Paradise Island.
Pastor Cyprianna Bethel, retreat host and founder of Focused Women International, launched the event on November 3 under the theme: "Real Woman Real World". Sessions featured topics that deal with "surviving and thriving in the midst of chaos, uncertainty, challenge and change".
Mrs Mason-Smith, assistant general manager of human resources and training at Bahamas Power and Light, received the award which is named in honour of the life and legacy of the late Ruth Munroe, wife of the late Dr Myles Munroe.
She was chosen based on her "commitment to excellence, investing in people, demonstration of love to people and the poor, and sharing of time and talent with others". She serves as president of the National Women's Advisory Council and is involved in a number of civic and religious institutions, including the Zonta Club of New Providence.
Presenters at this year's Focused Woman International summit were all power players in their various fields, including Kayandra Gardiner, chairman of the Music Project, and La Toya Moxey, Meliá Nassau Beach Resort senior sales and marketing manager.
Other speakers covered topics including: "Defying the Nay Sayers" by Miriam Emmanuel, executive chairwoman of BAIC; "A Woman in Transition" by Pastor Angela Burrows of Bahamas Faith Ministries International; "Women in Business and Politics - The Whole Truth" by Arianthia Komolafe; "The Obedient Woman" by Minister Elaine Hinsey, and "The Persistent Woman" by Pastor Olivia Wells of Living Waters Kingdom Ministries.
Focused Woman International is committed to "provide opportunities for women to utilise their gifts, experiences and professional skills to enhance the life of another woman".
The objectives of the organisation are: to encourage women to become transformed by participating in events and networking opportunities sponsored by Focused Woman International; to inform women of opportunities for self-improvement and enhancement; to empower women by exposing and engaging them in seminars and activities designed to strengthen their gifting; to inspire women to set goals and standards to improve their image and scope of influence in their respective world; and to mentor and develop relationships with professional women.
Gospel Recording Artist Tamika Taylor and Raenell Wells were included in the three days of entertainment to accompany the sessions designed to empower women and provide for networking opportunities.
For more information, find Focused Woman International on Facebook, or e-mail fwiseseminars@gmail.com.
More like this story