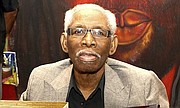 BELOVED Bahamian musician Ronnie Butler is alive, contrary to social media reports which were widely spread yesterday morning.
Youth, Sports & Culture Minister Michael Pintard yesterday lamented the 'fake news' and the impact it could have had on Mr Butler's family.
"Having been in public life for quite a few years, I've grown accustomed to fake news as well as rumours that people embrace as being factual," he said.
"The distinction between those two are they are things people deliberately manufacture to serve their purpose and there are those things people hear about and don't intend for it to necessarily be harmful but they repeated it relentlessly with no care about whether they are accurate or not. These kinds of things we spread do have an impact on people's lives. So this is a continuation of that kind of culture we have created locally and internationally.
"Everyone has become an armchair journalist doing your job so rather than have responsible people who would take the time to vet the accuracy of information, we have folks simply sharing information unintentionally causing harm to others."
Mr Pintard highlighted Mr Butler's stature as a cultural giant.
"What is very clear in this case is the overwhelming love, respect and deep appreciation that tens of thousands of Bahamians have for Ronnie Butler who, thank God, is alive," he said.
"And certainly, Ronnie's stature in this community would cause any mention of his name to generate a high level of response and I would encourage persons to continue to celebrate Ronnie, to give him his flowers now that he's alive, to go out and purchase his music, to encourage the various radio stations to increase Bahamian content in general and Ronnie music in particular not just at a time when you have concerns about the health of a Bahamian icon but on a regular basis.
"Those of us who are cultural practitioners recognise Ronnie as one of the greatest storytellers in our region. He has captured so many dimensions of national life in his songs. He has given very serious social commentary on the condition of our people, the challenges we face in a number of areas, whether it's with crime or social deterioration. He's also celebrated us as a people, talking a great deal about relationships, PG-rated as well as otherwise. Ronnie has impacted our national thought in so many ways and this should be a lesson to all of us to continue to appreciate people in very practical ways while they are with us so they never forget how much we cared about them," Mr Pintard said.
In July 2015, Mr Butler received the Lifetime Achievement Award at the Icon Awards for a musical career that has spanned more than five decades.