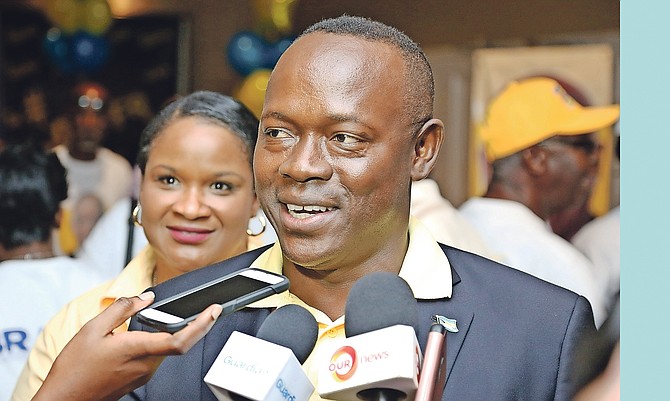 By KHRISNA RUSSELL
Deputy Chief Reporter
krussell@tribunemedia.net
THE level of layoffs across the country is "disconcerting," Progressive Liberal Party Deputy Leader I. Chester Cooper said yesterday in the wake of Bank of the Bahamas announcing 30 job losses.
Meanwhile, PLP Chairman Senator Fred Mitchell said men and women losing their jobs is "an unfortunate pattern" with the Minnis administration. He said the Free National Movement (FNM) thinks too often of statistics and figures and not enough about people.
Tribune Business reported yesterday BOB's job cuts were a part of the bank's bid to return to sustained profitability following recent branch closures.
The lay-offs, BOB said, were related to the closures of its Exuma and Eight Mile Rock branches, plus a drive to cut costs as part of its turnaround strategy. The Eight Mile Rock branch in Grand Bahama has already closed, while the facility in Exuma will shut its doors on December 31.
Mr Cooper said: "The government must swiftly mobilise a plan for job creation and encouraging business start ups and expansion to redeploy some of the displaced workers. There's also a need for a swifter permitting process as this is reportedly a problem in Chub Cay.
"This speaks to the need for tangible ease of doing business initiatives. Also I trust that every member of the Cabinet wakes up each day thinking about how to fix Grand Bahama. My heart goes out to the many hurting Bahamian families."
For his part, Senator Mitchell said: "It is always dreadful when men and women lose their jobs. It is an unfortunate pattern so far in this administration - job losses after job losses. The (FNM) administration thinks too often of stats and figures and not enough about people.
"The PLP is expecting to move shortly, through its council, to provide some policy guidelines on these developments in the banking sector including issues such as labour retrenchment, banking fees and the services that are no longer offered in far flung communities. Our concern is always the fate of our people.
"No doubt the government will explain fully and frankly its strategy with regard to the bank at a time of retrenchment in the availability of banking services in communities that are unbanked or under banked."
In a statement Wednesday, BOB's executive management said the bank had started "the right-sizing of departments and units this week in another strategic move to improve operational efficiencies, with the ultimate goal of setting the bank back on a path to sustainable profitability."
The statement read: "The bank anticipates that less than 30 members of staff will be affected throughout its operations, including the closure of branches," it added. "This follows recent decisions taken by the Board of Directors to rationalise the bank's branch network...
"These are extremely difficult decisions to make primarily because they hold implications for continued employment of members of our team, and impact many areas of the bank. However, these decisions are based on careful assessment of our operations and the corporate objective of securing enhanced efficiencies.
"We wish to emphasise that all decisions were taken with the greatest level of diligence, care and sensitivity."