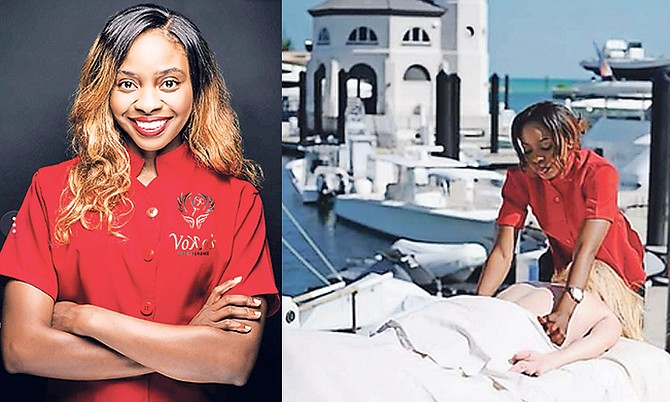 By NATARIO MCKENZIE
Tribune Business Reporter
nmckenzie@tribunemedia.net
A few years ago, Kosha Johnson was homeless, living out of her car and struggling to make ends meet. Today, the massage therapist and aesthetician has a successful business which she is about to take beyond the borders of the Bahamas.
VoKo's Spa Experience is the name of her mobile luxury spa service, and Ms Johnson has set her sights set on expanding it throughout the Caribbean region, with plans to start in the Turks and Caicos Islands in the near future.
Ms Johnson founded the health-conscious mobile spa company six years ago, after having started out as a concierge agent at a local spa.
She admits that the journey has not been an easy one. While she was pursuing a course as a message therapist, her house burnt down, leaving her homeless and forcing her to live out of her car for several weeks.
"I pleaded with my teacher at the time and the owner of the school to work with me and allow me to complete my course," said Ms Johnson.
Having completed her course, she took every opportunity to make a name for herself. The massage therapist said that she received rave reviews for her services from the start. The solid reputation she was slowly building, coupled with increasing client demand and a desire to help persons improve their wellness, led Ms Johnson to launch her own business.
"I was working in a day spa and I had a lot of clients ask me if I did house calls. Due to the demand, I started doing house calls on a part-time basis. It got so busy that I went into it full-time. Ultimately, I couldn't do all of the services myself so I started to put a team together," she told Tribune Woman.
The VoKo's Spa Experience currently has seven therapists in New Providence, though Ms Johnson notes that her aim is to increase that number to at least 10.
She explained that VoKo's is a full-service mobile spa which caters to the on-the-go needs of its clients.
"We come to you, whether to your residence or your yacht. Wherever you are in the Bahamas, we come to you. We also do spa parties and corporate events," she said.
VoKo's Spa Experience has catered to some very large events, including the Commonwealth Youth Games 2017, with 1,400 athletes from all around the world, as well Bahamas Fashion Week 2017 and the Susan G Komen Race 2017.
Ms Johnson said she is now looking to create greater awareness of her company.
"We get a lot of repeat business. We have the best therapists on the island. I'm proud to say that. It's not just my words, those are the words of our clients and we have a lot of repeat clients because of it."
The VoKo's Spa Experience, as she explains it, is being able to cater to the body, mind and soul of the clients, while offering a safe, professional, clean and luxurious experience.
"We create the entire spa atmosphere. We bring everything from equipment, to music, to candles, to ensure that our clients are in a relaxed environment," she said.
The company also prides itself on using all-natural products, from massage oil to its facial products.
"People always ask me why I do it and I tell them that it is because of the results that I get after the service is done. It makes everything worthwhile," said Ms Johnson.
"In the next year and a half to two years I hope to take the business to Turks and Caicos, then take it across the Caribbean."