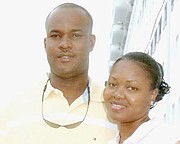 By DENISE MAYCOCK
Tribune Freeport Reporter
dmaycock@tribunemedia.net
VIRGIL Hall told the Supreme Court yesterday that he was one of four men who went to rob "a drug boy" of $2m at a house in Deadman's Reef on the night of September 12, 2015.
Hall is testifying as a key witness for the prosecution in the armed robbery and murder trial of Paul Belizaire, Devaughn Hall and Kevin Dames. He accepted a plea deal with the Office of the Attorney General to testify for the Crown.
Although the murder charges were dropped against Hall, he is currently serving time in prison on the armed robbery charge. Allan Alcime, who also accepted a plea deal, has also testified at the trial.
Barry and Sheena Johnson were discovered murdered at their triplex apartments in Deadman's Reef on the morning of September 13, 2015. They were robbed of their GMC Sierra Truck, and a set of keys.
Mr Johnson was employed as a supervisor at the container port and his wife was a school teacher at the Eight Mile Rock High School.
Hall said that on September 12 he was working on a car at Take Me Corner in Eight Mile Rock when Allan Alcime received a call around 6 and 7pm.
He said Alcime told him that "short man", also known as Devaughn Hall, had just called about a job for them to do
He assumed it was another car job. However, as they were walking through a shortcut to go to Pinedale, EMR, Alcime told him what it was they were going to do.
"It was not about a car; it was about this money this drug boy just make; he show me that it was $2m in this house and they needed a fourth man to search. He asked if I was ready for that," Hall said.
He said when they arrived at Devaughn Hall's house in Pinedale it was already dark. A grey-coloured Maxima was in the yard. He saw PJ, also known as Paul Belizaire, and another man, the driver of the Maxima, whom he did not know at the time, but had seen him around in the Rocks.
"Devaughn said let's go," Hall said. They got into the Maxima – Alcime sat in the front seat with the driver; and PJ sat in the back-passenger seat on the left; Devaughn Hall sat in back in the middle; and he sat in the back-passenger seat on the right side.
Hall said Devaughn gave the driver directions to where they were going. He said "short man" directed the driver through a dirt road.
He said that Alcime asked Devaughn to pass him a tan mask from the bag. Hall had also asked for a mask and they all got out of the car.
"Devaughn gave PJ an AKA - it was a big gun; Allan grabbed the shotgun; and I put on a long sleeve shirt and gloves," Hall recalled.
Hall told the court they walked through the bushes to an apartment and waited there. He said the woman arrived home 30 minutes later.
"Devaughn said, 'not her; that the man knew where the money is.' They waited for another 30 minutes and a truck pulled up and Devaughn said, 'That's him; let's get him."

Hall said the man dropped to the ground, and he went to the bedroom and kicked the door open. He said the woman was sitting on the floor with a phone in her hand.
Hall hit the phone out of her hand and told her to sit in the front room while he searched the bedroom.
Hall stated Alcime shouted: "Let's go these people ain't gat no money."
He said as he was leaving from the bedroom, he heard a shot go off and saw the man slump and drop to the ground.
As Hall ran past Devaughn, he heard another shot.
"I thought he shoot me, and I then I heard another shot," Hall said.They jumped into the truck. He said Alcime was arguing with Devaughn about why he killed the people.

Hall said he was afraid that Devaughn would kill Alcime too because "he had just kill those innocent people." He said they abandoned the truck. Devaughn threw the hand-held radio he was sitting on in the truck into the bushes and Alcime threw the keys away. He said they then split up. He and Alcime went one way, and the PJ and Devaughn went another way. He said Alcime took off his long sleeve shirt and wrapped the shotgun in it, so nobody would see it. He hid the gun in bushes in his yard.

Hall said he went home, but could not sleep and went back to Alcime's house. "I was upset and told him that I don't do that type of vibe, that I did not want anyone to get hurt," Hall told the court.
Hall said he left Grand Bahama after receiving a call from his former boss about working on a plumbing job in Grand Cay, a small cay north east of Grand Bahama.The co-defendant said that he received a call from his sister that the police were looking for him and she gave him a number to call the police.

He called the number and spoke with Officer Weir who told him they were looking for him in reference to a matter.
He said he told police he was at Grand Cay at the time.
Hall said he was arrested by officers in Grand Cay and returned to Grand Bahama, where officers of the Central Detective Unit in Freeport questioned him.
He said he directed officers to retrieve the brown and chrome shotgun.Hall identified all the defendants in the court. He said he had known Devaughn Hall aka "short man" for 10 to 12 years from Pinedale, Eight Mile Rock. He said they called Devaughn "short man" because he was short.

He said he knew Paul Belizaire, aka "PJ" just as long or longer. He did not know Kevin Dames, but had seen him and his car in the Rocks, and said he was the driver of the Maxima on the night in question.
The trial continues Tuesday.
More like this story