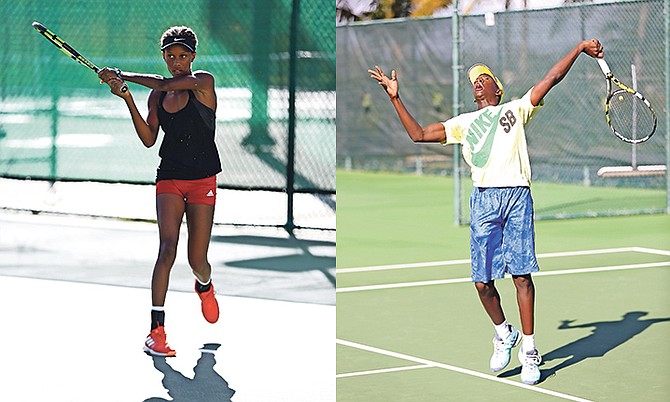 By BRENT STUBBS
Senior Sports Reporter
bstubbs@tribunemedia.net
TWO of the three Bahamians in action in the main draw of the International Tennis Federation's 2017 Goombay Splash Bowl stayed alive on Tuesday at the National Tennis Center.
On the second day of the intense competition, both Sydney Clarke and Afrika Smith survived, but Donte Armbrister got eliminated.
Armbrister, the number eight seed in the boys' under-18 singles, lost a hard fought 6-3, 4-6, 6-4 decision to Andy Zhu from Canada.
One other seeded player advanced on the boys' side as No.4 Joachim Schaefer of Norway won 6-0, 6-1 over Diego Amilibia from Spain.
In two other matches on the boys' side, American Jake Krug pulled of a 5-7, 6-4, 6-0 over Callum Theaker of the Cayman Islands and Joshua Cadiz Ramcharitar of Canada won 7-5, 6-3 over American Niklas Von Hellens.
On the girls' side, Clarke, the fifth seed, pulled of a 6-0, 6-2 win over Canadian Shirley Liang, while Smith, the No.5 seed, knocked of Patricia Molina from Spain 6-3, 6-4.
Top seed Imani Graham of the United States won 6-1, 6-1 over Mandisa Walle from Curacao and No.7 seed Charlotte Russell of Great Britain won 7-6 (2), 6-4 over Genevieve Quenville from Canada.
Doubles also got started yesterday, but only two teams featuring Bahamians advanced.
On the boys' side, Jacobi Bain, teaming up with Christopher Heck from Canada won 6-4, 6-2 over the Bahamian duo of Donte Armbrister and O'Neil Mortimer, while Kofi Bowe and his American partner Philip Katta were ousted by American duo of Connor and Jake Krug 6-1, 6-1.
Bain and Heck will now play the No.2 seeded team of Joshua Lapadat and Ilva Tiraspolsky from Canada in the second round today.
The top seeded team is Americans Andrew Dale and Alexander Kiefer.
In the girls' doubles, Bahamians Sydney Clarke and Elena Mackey pulled of a 6-3, 6-2 win over the Canadian team of Shirley Liang and Simran Ravichandran.
Clarke and Mackey will play the team of Fernanda Cobo of Mexico and Hina Nishida from Japan in the second round today.
The top seeded team is Imani Graham and Madison Kim of the USA, who will play Anya King of the USA and Mandisa Walle.
Also today in singles, Jacobi Bain, the last Bahamian standing, will face No.1 seed Alexander Kiefer from the USA.
And on the girls' side, the six Bahamians still alive will be in action.
Hannah-Joy Simms will meet top seed Imani Graham; No.8 seed Sierra Donaldson will face Yao Chewn from China; Isabel Donaldson will take on Dagmar Zdrubeecka from the Czech Republic; No.4 seed Sydney Clarke challenges American Grace O'Donnell; Elana Mackey will battle Genevieve Quenville from Canada and No.5 seed Afrika Smith squares off with Kristina Tiraspolsky from Canada.
The tournament also features a under-14 Circuit of COTECC.
Today at 4 pm, it will be an all-Bahamian showdown as Michael Major tangles with Dentry Mortimer Jr in the boys' final and Kaylee Kanuka and Perjae Major are matched up in the girls' final.
The girls' consolation final will be played between Kinza Johnson and Jordan Munroe, while Clint Newry and Jeffery Thompson will compete in the boys' consolation final.
And in the finals of doubles, Johnson and Kanuka will pair up against Major and Sierra Rodgers in the girls' encounter, while Major and Newry will face Bahamian Vontenken Rolle and Virgile Homere of Haiti.