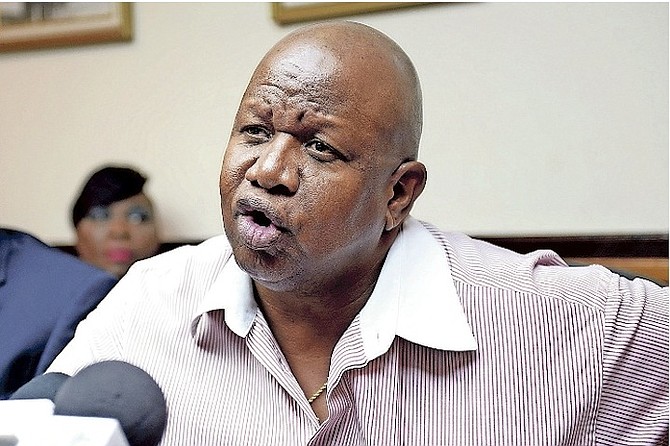 By SANCHESKA DORSETT
Tribune Staff Reporter
Sdorsett@tribunemedia.net
IRATE Bahamas Power and Light customers yesterday railed against the electricity provider for an increase in their power bills despite claims that less electricity was used.
Several angry consumers vented their frustrations on Facebook, with several people threatening to organise a protest in front of the company's headquarters on Baillou Hill Road.
When contacted for comment, BPL Chairwoman Darnell Osborne said she was unaware of an increase, however Bahamas Electrical Workers Union (BEWU) President Paul Maynard said a combination of the reliance on the Blue Hills Power Plant as well as an increase in the fuel surcharge has led to the higher light bills.
Mr Maynard insisted neither BPL nor the government could "absorb" the financial blow of fuel prices.
"The increase this month is due to an increase in the fuel surcharge, the price of fuel has gone up and we are using the most expensive fuel to run the the Blue Hills Plant," Mr Maynard said.
"Our minister has said that BPL has to go on its own, meaning the government is no longer subsidising BPL's bills so it is being passed to the costumers. We have to pay for ourselves. Clifton is unreliable and has been on and off for several months and until we get that fixed we are using the Blue Hills Plant as the primary power plant and it not only uses more fuel but is uses more expensive fuel, so that is where the increase in the bills comes from. The bills will continue to increase unless things change very soon."
However, Mr Maynard said he believes the company's new Chief Operating Officer Christina Alston, a Bahamian who most recently served as director of supply chain services for Georgia Transmission Corporation, will turn around the struggling electricity provider.
"She has a lot of zeal and she seems to know what needs to be done. She came with a plan and rolled her sleeves up as soon as she came," he said.
"She dove right in and the staff are optimistic that she will get things done, we believe she will turn this company around."
Meanwhile, angry customers vented on the company's social media page demanding answers for the higher bills.
"It is so sad and as Bahamians we are so complacent. We just complain and do nothing about it. It takes action for things to change. Why not on a Saturday morning everyone who feel that their electrical bill is too high get their children and family members to march in front of the BPL office for two hours - that would send a message to both them and the government," one person wrote.
Another said: "Our light bill for the month was $885 and last month it was $450. I asked if we're running a mall. There's no way a bill can jump from $450 to $885 in two months. Bahamas Power and Light Company Limited this is ridiculous."
In July, after a significant increase in power bills because of a fuel surcharge increase, Minister of Works Desmond Bannister said the government cannot continue to absorb the cash strapped utility provider's expenses.
Mr Bannister told The Tribune that BPL has a "huge legacy debt" and unfortunately the cost will have to be passed on to the public "directly or indirectly".
He was responding to the Central Bank of The Bahamas' monthly report that revealed BPL's fuel charge increased by 8.3 per cent to 13.7 cents per kilowatt hour (kWh) on a monthly basis, and by 49.7 per cent when compared to May 2016.
In a statement earlier this year, BPL explained that an increase in bills for the month of May was also caused by its reliance on engines at the Blue Hills Plant, which uses more expensive fuel than the Clifton Power Station.