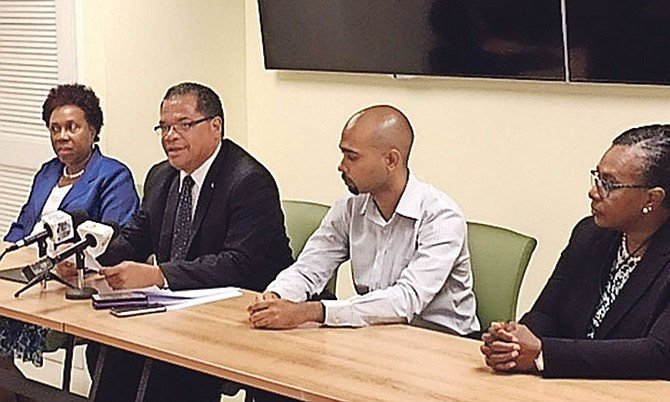 By KHRISNA RUSSELL
Deputy Chief Reporter
krussell@tribunemedia.net
AFTER nearly ten years of being unemployed, Leneah Davis-Woodside says she is excited to register for the employability component of a $20m initiative funded by the Inter-American Development Bank, which targets inner-city youth and aims to prevent crime.
Describing it as a "push to do more" in furthering her education, the 27-year-old expressed confidence that once the initiative begins and all parts are complete, she will put an end to her lengthy bout of joblessness.
For Antonio Simmons, this is a chance to learn new skills outside of those he learned as a security officer and customer service representative.
Unemployed since August, the 23-year-old said landing a job is his top priority.
The programme also targets those who have not finished high school, as was the case with 16-year-old Christna Gilbert. Ms Gilbert said this would likely give her the boost she needs to find employment in the hotel industry.
They were among a group of young people who yesterday morning turned out for a registration drive to launch the Citizen Security and Justice Programme (CSJP).
This is the second component of a public awareness campaign geared towards at-risk youth by providing skills training. Under this component, which focuses on increasing the employability and employment of at-risk youth, the Department of Labour has joined with the Ministry of National Security for the training of 1,000 at-risk youth in soft skills and 1,600 at-risk youth in both soft skills and technical skills, Minister of Labour Dion Foulkes said yesterday.
He said those individuals who successfully complete the technical training will then have an opportunity for placement in internships and on the job training where they will have the opportunity to receive experience and stipends.
This area targets the demographic of young persons – Bahamian or permanent residents between 16 to 29-years-old – who are currently unemployed and have not completed high school. This is a prime grouping for those most at-risk of leading a life of crime and criminal activity, if they are not properly engaged and given skills to succeed.
"As far as doing the programme, it's good for young ladies and gentlemen," Ms Davis-Woodside told reporters yesterday following the official launch at the Department of Labour's headquarters on Rosetta Street. "It (pushes) you to do more and further your education, like learning different stuff is easy. But you got to put your best into it no matter what and go on doing what you must do.
"I could train in [an] office or hotel," she said when asked what her preferred area of skills learning and placement was.
She continued: "It's very important because you learn different trading and different stuff like typing, cleaning (and) going out there helping other people to move forward."
For his part, Mr Simmons said: "You know I'm out of a job. I was working from I came out of school, but August of this year I was unemployed so I am going to give this a try and hopefully get successful in a job.
"It's a good opportunity. I see it as it could work if they just plan it out right and I feel as if they have it planned right so it's a good opportunity.
"I could continue doing security, but I could do anything if I technically learn from this programme if they put me in any different field I would be willing to learn any different field right now. I just need a job," he added.
Mr Foulkes said the CSJP is designed to do several things, including to improve behaviours for non-violent conflict resolutions, increase employability and the employment of the at-risk youth population, strengthen institutional capabilities of justice services and reducing the recidivism rate among persons within the juvenile system.
The registration drive yesterday was a means of information collection in anticipation of the start of training during the first quarter of next year. Organisers said yesterday the exercise will help speed up the process as they contact those who signed up to begin training.
More like this story