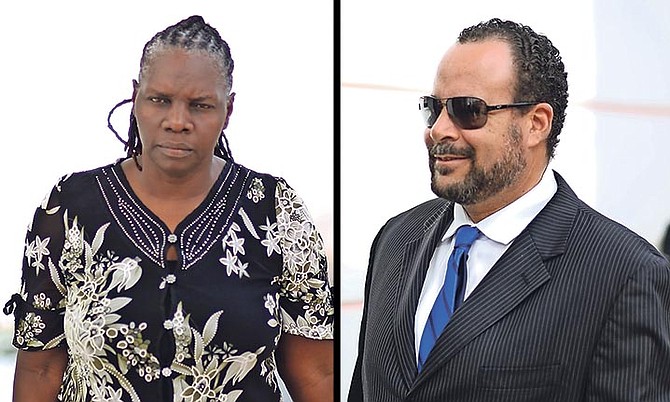 By NICO SCAVELLA
Tribune Staff Reporter
nscavella@tribunemedia.net
THE complainant in former Progressive Liberal Party Senator Frank Smith's bribery and extortion trial told a judge Smith asked her for $5,000 a month, which she said she paid over a one-year span after she received a government cleaning contract.
Barbara Hanna, testifying before Chief Magistrate Joyann Ferguson-Pratt, said within a week of being awarded a one-year, $43,350.89 contract to clean the Critical Care Block (CCB) at the Princess Margaret Hospital in 2016, she spoke to Smith who told her she had to give him $5,000.
Believing it to be a one-time payment, Ms Hanna said she obliged and gave him the money. Upon doing so, however, she said she was told she had to make monthly payments in that amount.
She said she responded by saying making monthly payments in that amount would affect her operation, and questioned why he did not tell her so she could put it in the contract. Smith's response to her, she said, was that there was nothing he could do as the contract was already drawn up.
She said she made the payments as often as she got a cheque for payment, which she said was issued monthly, although noting that she was never paid on time.
The first payment she made to Smith was in April 2016, she said. The last payment was in April 2017.
Ms Hanna said she didn't make any payments to Smith in May 2017. However, she said when they spoke around that time, she told him she needed $17,000 to pay off an outstanding balance with the National Insurance Board.
In response, she said Smith told her she would have to come to his office on Village Road and fill out a form. She went to the office and retrieved the form, however, she said when she examined the document, she realised it was a loan form, and consequently did not bother to fill it out.
She later said during cross-examination that subsequent to her being awarded the contract, she got a loan from Smith to assist with various items she lacked but needed to commence her services. That loan was granted in February 2016, she admitted.
During her testimony, Ms Hanna also told the court she feels like she is being "used" to testify in the matter.
She said while she cannot say exactly who is using her, she feels she is at a "disadvantage" by testifying in the trial.
She also expressed her disdain for being involved in the matter by repeatedly saying "I don't want to be here" while seated in the witness box.
She stressed that she was not the one who pursued the charges against Smith, and did not go to the police willingly concerning the initial investigation.
"The police called me," she said. "I didn't go to them."
Ms Hanna also said she felt "frustrated" and "uncomfortable" by the many calls she received from police requesting she come in for questioning concerning Smith's charges.
She said she received several calls from police, one of whom was an assistant commissioner, to come in for questioning concerning the matter, but didn't go "for days" after they called.
And although she said she ultimately went to police, she admitted while being cross-examined by an attorney for the accused that she felt pressured to do so.
Ms Hanna's testimony came during day one of Smith's trial over allegations he solicited $65,000 in bribes from a woman he is said to have assisted in getting a contract.
It is alleged that Smith, between April 2016 and April 2017, in respect of his duties as a public officer, demanded and obtained $5,000 per month from Mrs Hanna, knowing he was not lawfully authorised to do so.
He is also alleged to have attempted to extort another $5,000 from Ms Hanna in May of this year. Concerning the bribery charge, it is alleged that he solicited $5,000 a month from Mrs Hanna for aiding her in getting a contract with the Public Hospitals Authority, where he formerly served as chairman.
Smith pleaded not guilty to all of the allegations during his arraignment.
After giving her testimony and as the court was about to adjourn for lunch, the witness spoke about her feeling "used."
Following submissions from counsel that Ms Hanna's schedule be considered heading into the adjournment and subsequent cross-examination, and the chief magistrate questioning her on the same, Ms Hanna said she had "a lot of things I need to get done" concerning her business, and, having been given another contract recently, said she was preparing her "people" for the days ahead.
"And so I have my hands full," she said. "And honestly, I really don't want to be here. I don't really want to be here. And I just need to express to you how I feel. I don't want to be here.
"I feel like I'm being used."
Addressing the reason why she sat for a portion of her testimony as opposed to standing, she added: "I have a business to attend to. I have to be on my feet all the time. That's why I don't want to stand too long because I have swinging in my head."
When cross examination began, Keith Knight, QC, opened up by questioning her on what she meant when she said she feels "used."
When the Jamaican attorney asked her who is using her, she said she could not say exactly, but insisted that she did not pursue the matter with police.
She further stressed that she is not a person who gets embroiled in court matters, stating that doing so is not in her nature.
When questioned if she felt pressured to participate, and if her participation was against her will, she said "yes".
Prior to the start of evidence, Damian Gomez, QC, submitted to the chief magistrate that the allegations Smith both demanded and obtained funds from Ms Hanna actually amount to just one offence.
He submitted that the charges are "duplicitous" as there are two charges that arise from the alleged act, and further submitted that the Crown "multiplying" the offence "embarrasses" the side opposite.
As an example, Mr Gomez said if an individual breaks into a home and steals 100 bags from that home, that individual would consequently be charged with one count of theft, as opposed to 100 separate counts of theft to reflect each stolen bag.
In response, lead Crown prosecutor Anthony Delaney insisted that demanding and obtaining are two acts that amount to two offences, with "demanding" automatically representing an offence and "obtaining" being an offence pursuant to the demand.
However, he noted that one can obtain something illegally without making a demand for it. He further submitted that had both acts – demanding and obtaining – happened simultaneously, the defence's argument would have been more valid.
The trial continues today.