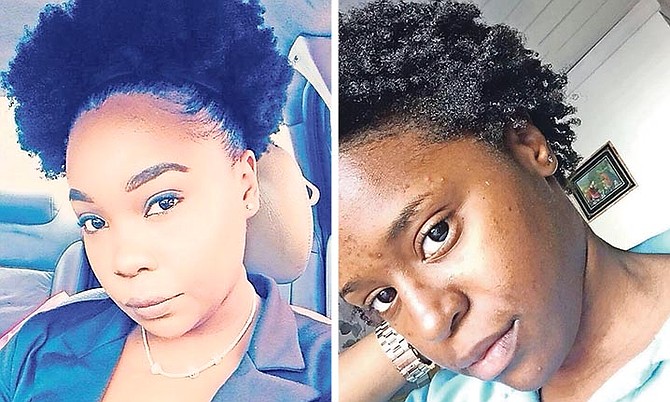 By MORGAN ADDERLEY 
SINCE October, two women have been sent home from their jobs at local establishments for wearing their natural hair.
Anthonique Hall, 24, said she was told her hair is "nasty" and Rolanda Davis, 22, said she was asked why she wasn't wearing a wig. Both women consider these incidents to be examples of discrimination.
After initially posting on social media, they described their experiences in further detail with The Tribune.
Ms Davis, a senior at the University of the Bahamas, wore her natural hair to work for the first time this summer. Although it was "pulled back" and "slicked and gelled," she said: "A high ranking executive passed the store. When she glimpsed me behind the register, her face distorted in scorn."
Ms Davis added: "After that, a general note went around the store from our higher ups that we need to be more presentable— more makeup, suit jackets, hair ties – basically they addressed me without addressing me."
Ms Davis took note and started wearing a weave.
"Fast forward to the day I was sent home (October 23). I came to work on time with my hair styled as is in the photo. My manager took one look at me and was like, 'where my wig?' I told her that it's being washed. She asked me if I didn't have another one or why I didn't do that on my day off, which happened to be the following day."
Ms Davis explained that she would be getting hair extensions the next day. Despite this, she said her manager told her she had to leave. Due to the impossibility of getting her appointment switched to that day, Ms Davis lost a day of work.
For her part, Ms Hall said on the morning of November 20 she wore her hair in a "twist out."
"My manager stared at my hair… (Later she) told me my hair wasn't appropriate and that I should fix it, but I told her my hair wasn't long enough to go in one (a ponytail).
"Then she left and came back and brought my supervisor and they pulled me outside. My supervisor wasn't much help. She (agreed) with my manager and told me to fix my hair. I repeated my hair isn't long enough, but they didn't care.
"That's when my manager proceeded to call my hair nasty and I got extremely offended. (Then) my manager told me to go home."
Ms Hall left and got her hair styled in box braids.
"As punishment, I got a write up slip because my manager believes she told me to go home, fix my hair and come back to work," Ms Hall said. "But she never said that. She blatantly told me to go home."
Neither woman feels as though much has been done to rectify her situation.
Ms Davis said: "I had a meeting with (human resources) a few days later…they said my hair was fine. The company expressed their policy which does not discriminate against natural hair."
However, Ms Davis pointed out that the policy of "'attractively arranged' is at the discretion of the manager. While they issued a half apology there has not been policy reform," she said.
She also expressed concern at being penalised in other ways.
"(I know) I will make a mistake, that's human nature, and the one incident, which would normally get a pass, won't because of what I did. That is the fear, the fear that keeps many silent," Ms Davis said.
Meanwhile, Ms Hall told The Tribune she attempted to report her manager.
"It wasn't effective," Ms Hall said. "She's pretty much a figure in the company where people believe she (can) do no wrong. She didn't apologise for her rude remarks, another manager had to apologise for her. And I still felt like in the end what was the point…if she got it her way?
"I'll always feel like I'm losing every battle."
Neither woman can afford to leave her job.
Ms Davis said: "I have bills that are due like clockwork every end of the month. Like so many other Bahamians I suck it up, put on my name tag, wear a smile and push through."
Both women acknowledged the role of race and complexion in their experiences. Ms Davis said: "I have a co-worker (with) natural hair but her hair texture is different, she has a loose curl or 'mixed hair.'
"She wears her natural hair every day in different styles, some days a ponytail, even a puff, and no one says anything. But the minute I wear my hair it became an issue."
Ms Davis noted that her manager is black, and that other girls in the company have experienced similar situations.
On Facebook, she wrote: "My anger became sadness because as a young black woman in this country I know that this (European) standard of what we should look like, need to look like, has a vice grip on my country, my Bahamas."
In her Facebook post, Ms Hall wrote: "My manager is a white Bahamian so she'll never understand the struggle black people (have) to go through with dealing with our kinks and coils."
Ms Hall added: "Honestly this experience has only made me embrace my 4C hair even more...and it's only made my bond with my hair stronger.
"I'm going to (wear) more black inspired hairstyles (such as) braids to pretty much tell the company through my hair that I am proud to be black and I will not apologise for it."
Up to press time, Ms Davis' and Ms Hall's Facebook posts have collectively received over 8,800 "likes" and been shared by more than 6,700 people. Ms Davis' story was also published on the popular website Afro-Punk.
In February 2016, another Bahamian natural hair controversy went viral. Tayjha Deleveaux, a CR Walker student, was reprimanded for what the school's principal viewed as not properly groomed hair. The student reportedly sported an Afro puff.
The incident sparked much controversy after Tayjha's mother posted a photo on Facebook of her daughter and a statement defending her hair. Shortly after, the hashtag #SupportThePuff was created. Tayjha's story was featured on several international news websites and blogs, including BBC News, Cosmopolitan, The Huffington Post and The Shade Room.
Anyone with labour complaints or who feel as though they may have been terminated unfairly can contact the Department of Labour at 302-2550 or 302-2551.