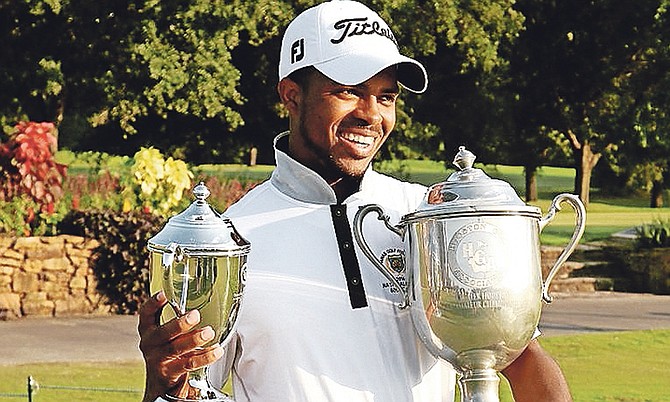 By BRENT STUBBS
Senior Sports Reporter
bstubbs@tribunemedia.net
Devaughn Robinson, preparing for the United States Mid Amateur Championships this weekend in Atlanta, Georgia, pulled off a major victory over the weekend as he clinched his first title at the Greater Houston City Amateur Championships at the Memorial Park Golf Course in Houston, Texas.
The 29-year-old mechanical designer for Valco Instruments in Houston posted a four-round total of 274 after he shot 69, 69, 65 and 71 to beat out Justin Kaplan on the count back after he also produced a 274 (65-68-68-73) as they held off Matt Van Zandt, who was one stroke behind at 275 (67-69-70-69).
"It was truly a remarkable experience, giving all of the hard work and dedication that I put in the past many months and years and to see something pay off like this is a humbling and gratifying experience for me," Robinson told The Tribune.
The Bahamas Golf Federation's reigning national champion and top performer for the Bahamas national team at the Caribbean Amateur Golf Championships, held in the Dominican Republic over the summer, won his first major victory in the United States and he indicated it will be one that he will cherish for a long time.
"I've qualified for some pretty big events, but for an actual win, this is the first one since I graduated from college," said Robinson, who graduated from Texas Southern University with his bachelor's degree in 2010 before going on to earn his masters in 2012.
Last year, Robinson finished in the top 10, which secured him an automatic berth into the tournament this year. This time, he made good of the opportunity.
"The actual physical performance, I can't say was too much different from last year. It was all on the mental side," he said. "For the past few weeks and months, I've been extremely dedicated to improving to where I need to be around the golf course and the way I actually think about my ability and skills.
"I've done everything I can to reroute my mentality and my approach to the game and to my mindset."
It all paid of in a victory that Robinson is hoping will carry over this weekend when he compete in the US Mid Amateur Championships at the Capital Country Club in Atlanta, Georgia. Robinson qualified for the championships after placing sixth at the US Mid Amateur Qualifying Tournament in Houston, Texas on August 21 with a one-under-par 71.
"To win," were the first two words when asked what his expectations going into Atlanta. "The expectations are always to win. I feel like I have just as much game, if not more, than anything in any field that I play in. So the bottom line is to win, but if I don't, I would be happy with the experience and the privilege of just qualifying for an event so big and to compete against the best players in the nation and around the world."
Robinson, a native from New Providence and a 2005 graduate of Queen's College, said he always put the Bahamas first and foremost.
"When I practice and achieve my dreams, I think I'm doing it firstly for my wife, my family and my country," said Robinson, who is married to Grand Bahamian native Fabricia Robinson. "That's my three driving factors. That is what motivates me the most."
The son of Walter and Phillipa Robinson, who began playing the game at the age of 11 after he abandoned the idea of pursuing basketball, said he still have a lot more work to do on his game.
"The amount of time that I have to prepare, which is not a lot because I work full time, I'm satisfied with my improvement so far," Robinson insisted. "I know I could push it a lot further. With a lot more time and preparation, there's not telling. The sky is the limit."
So far, Robinson is soaring high.