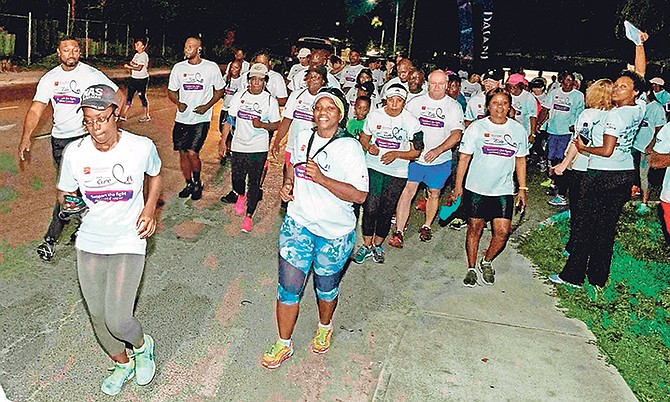 MORE than 400 early morning risers jostling for front line position were etched against the night sky as a voice proclaiming, "Walk for the Cure" signaled the start of the 6th annual CIBC FirstCaribbean cancer awareness fundraiser Sunday morning.
Participants started arriving at 6am for registration and for the warmup exercise session with Regina Smith of Energy Fitness Bahamas. Dawn had not yet broken when the 400 plus walkers and runners set off at 6.30am from the Goodman's Bay Corporate Centre on West Bay Street. There were prizes to be won for runners and walkers in the long route to Sandals Resort or to the closer Melia Resort and back.
A musical cool down session with Fab Fit Studio greeted them on their return. A praise and worship service for survivors and in memory of those lost to cancer, a hot breakfast and fruits, and an interesting array of vendor booths primarily related to health and wellness filled the time until the much anticipated awards ceremony.
Growing concerns in communities on the proliferation of cancer related conditions regionally have brought an increased focus on raising funds to help care for those with the disease and to advance ways and means to help prevent it, to get people to get regular check-ups, and to treat it.
Marie-Rodland-Allen, CIBC FirstCaribbean's managing director, spoke at the event and pointed out that the fundraising walk was for the benefit of the many areas related to cancer awareness and patient care, and she applauded and thanked sponsors and attendees.
"Today, we're not just walking for those who are dealing with this disease right now. We are also walking for those who, God forbid, might encounter the disease; and we're also walking because through the efforts that we're making here and with other fundraisers, through awareness and through education, we are trying to help keep anyone else from ever encountering this disease by early detection and prevention. So thank you very much for your participation," she said.
Trevor Torzsas, executive co-chair of Walk for the Cure and CIBC FirstCaribbean managing director of cards & customer relationship strategy, said that every cent raised by "Walk for the Cure" is donated to local cancer support organisations.
"The cancer support groups here are doing great work - they are dedicated, selfless people on the front lines with the medical staff and family members; we are proud to be able to support them. We're extremely grateful to all of the other corporate sponsors who are donating money and resources and putting teams forward to walk in the event each year - it's become a real community effort," he said.