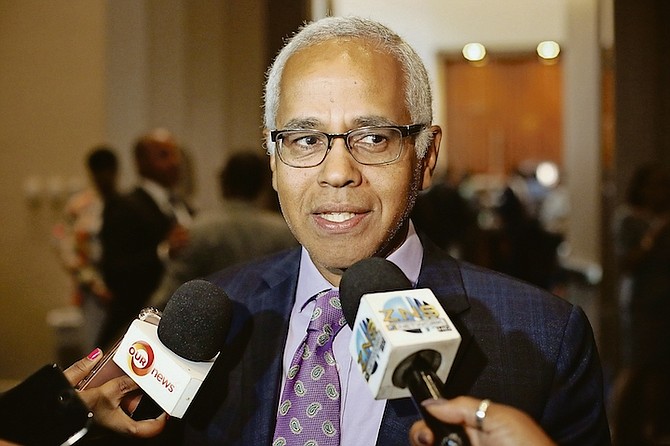 By NEIL HARTNELL
Tribune Business Editor
nhartnell@tribunemedia.net
THE creation of a Bahamian national lottery is "front and centre" for the Gaming Minister, who yesterday warned web shops: "The status quo needs tweaking."
Dionisio D'Aguilar declined to divulge details to Tribune Business, but said he had "a few ideas" as to how a national lottery could be structured and developed in this nation.
"Bahamians are crying for that. That's very much front and centre in my mind," the Minister of Tourism responded, when asked by this newspaper whether a national lottery remained a possibility.
Mr D'Aguilar's remarks effectively opened up a new front in his ongoing battle with the numbers houses, given that many - both inside and outside the industry - believed a national lottery had been 'removed from the table', and was not a subject for discussion, when the industry was 'legalised'.
With the web shops scooping up all domestic gambling proceeds, it was felt there would be insufficient appetite and income to fund a national lottery, and the former Christie administration dropped the idea.
However, national and state lotteries in nations such as the US and UK have raised millions of dollars for charities and good causes, and provided significant funding for projects that benefit society.
The national lottery topic arose as Mr D'Aguilar effectively 'doubled down' on concerns he raised in Parliament last week, arguing that the web shops' efforts to compare themselves to hotel casinos "shouldn't be taken seriously".
While resorts such as Atlantis and Baha Mar generated billions of dollars in GDP impact and foreign exchange earnings, the Minister said the gaming houses were wealth redistributors rather than creators - taking money from many, with the profits reaped by relatively few.
Pointing out that the proliferation of web shop gaming was imposing a huge social cost on Bahamian communities via gambling addictions, Mr D'Aguilar suggested it should be viewed like alcohol and cigarettes, and subjected to 'sin' or 'vice' taxes.
The Minister also suggested the sector's Know Your Customer (KYC) processes were deficient, set alongside its functioning as a money transfer business, because a client's sources of income were not verified.
And Mr D'Aguilar, defending his description of the sector as a 'cartel', said the 10-year moratorium barring new entrants was 'hypocritical' given that the web shop operators have been using their profits to expand into other sectors of the economy where there are no such obstacles.
"My position is the status quo, in the eyes of many, including the Government, needs tweaking. It warrants a discussion," Mr D'Aguilar told Tribune Business. "They're [the web shops] very happy because they're making oodles of money.
"If I had a business making oodles of money, and some whipper snapper like D'Aguilar turns up and says the nature of the profits being generated by the industry for the benefit of so few, at the expense of so many, is generating too high a social cost and there needs to be a rebalancing, I might be unhappy, too."
Emphasising that he would not back down, despite intense push back from the Gaming House Operators Association last week, Mr D'Aguilar said a review of the sector was likely to "crystallise" prior to next year's Budget.
"This whole industry has been shrouded in a certain element of secrecy," he added. "We've got to have discussions and see where it's going to go.
"Don't confuse the theatre of Parliament with the need to get specific results and specific improvements. The status quo is not perfect, and we need to tweak it."
Gaming house operators are currently required to pay 11 per cent of their taxable revenue or 25 per cent of earnings before interest, taxes, depreciation and amortisation (EBITDA), depending on which one is greater.
They also pay 2 per cent of their revenues to charitable causes and entities, which generated the Association's argument last week that its effective tax rate is 13 per cent, when hotel-based casinos pay just 5 per cent and also enjoy significant tax incentives.
Mr D'Aguilar, though, argued that the comparison was disingenuous and like matching "apples with oranges". He added: "This comparison with the established casinos is, in my opinion, completely flawed because the casinos are governed by a Heads of Agreement.
"They get a favourable tax rate because they make, in most instances, many billions of dollars in investments and create thousands of jobs - 8,000 at Atlantis, and 5,000 at Baha Mar.
"Clearly, the GDP effect of those hotels is far more substantial and far more positive than those numbers houses. They don't have nearly the GDP effect to compare themselves to an investment like Atlantis and Baha Mar, in my humble opinion," the Minister continued.
"The comparison's completely flawed, and not to be taken seriously. Yes, they pay a higher rate, but over the GDP impact, economic effect and creation of high-paying jobs, there's no comparisons."
Mr D'Aguilar said the proliferation of web shops throughout the Bahamas, and easy access to gambling, had created a growing addiction problem - especially in the Family Islands.
"We need to come up with a mechanism to try and limit the damaging effects from many, many people blowing their weekly or monthly wages on gambling," he added.
"Certainly, in the Family Islands it's been devastating. The MP for Long Island pulled me aside and told me there are many, many numbers houses in Long Island, and it seems it's having a tremendous effect on the social fabric of the island. People are addicted."
Acknowledging that he backed the web shop industry's legalisation, Mr D'Aguilar suggested he had the Bahamian people's support for the imposition of more controls on the sector.
"It's not just about taxation; it's about how we lessen the impact of this vice," he said. "I think a lot of people are clamouring for a bit more regulation, and a bit more control, over the sector.
"It seems as if they're building these huge gaming houses, everywhere you look there's a numbers house, and it's beginning to affect the working mind of the people; why work when you can gamble? As a government, we have to be aware a bit more of the impact of this vice. Everywhere you look it's a free-for-all, there's unimpeded access and we're losing our minds."
The Gaming House Operators Association last week said its members applied the most stringent KYC due diligence in the financial sector, after Mr D'Aguilar raised concerns that they could attract the ire of global regulators by acting as unlicensed, unregulated money transmission businesses.
The Minister responded yesterday, though, that while web shops required government-issued identification and utility bills from customers, they did not verify income sources.
This, he added, was why the Central Bank was concerned and the issue "needs addressing", especially as "anyone can put money on an account and someone can take that off an account".
And while the word 'cartel' had negative connotations, Mr D'Aguilar maintained that the 10-year moratorium granted to the existing eight web shop license holders meant this description was accurate, as there can be no new entrants until 2027.
"They have no competition; the law is protecting them," he told Tribune Business. "The law is saying no one can enter into that business, and the profits are substantial. They've got a guaranteed revenue stream for 10 years, and market share.
"We should review that. They don't ever have to worry about competition in their core market, because no one else can enter, but they can enter into other markets and compete with everyone else there."
Island Luck and its principal, Sebas Bastian, have already done exactly that by entering the real estate and construction markets with Brickell Management Group and Vandoff Construction, plus securities and investment banking with Investar Securities.
Mr D'Aguilar, meanwhile, suggested that the web shop industry is "already dominated by one" player as it consolidates, with a number of operators sharing a common gaming platform provided by one house.
"I haven't looked into it, but I'm told there's common ownership at a number of houses," the Minister added. "I don't think that was supposed to be... the licenses were supposed to have been open to other people."