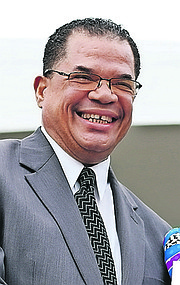 By AVA TURNQUEST
Tribune Chief Reporter
aturnquest@tribunemedia.net
LABOUR Minister Dion Foulkes plans to meet with banking authorities next week to address numerous reports and complaints over increases in service fees and charges by some commercial banks.
A statement yesterday said complaints made to the the Consumer Affairs Division range from the increases in fees to cash cheques, to the increases in credit card late payment charges.
"Upon the invitation of the Minister of Labour, Dion Foulkes, the Clearing Banks Association and the Central Bank of The Bahamas have agreed to meetings to discuss these issues next week (October 19)," it said.

"The chairpersons and members of the three consumer protection agencies will also participate in the discussions along with members of the Tripartite Council.
They include Philip Beneby of Consumer Protection Commission; Synida Dorsett of the Prices Commission and Pauline Curry of The Bahamas Bureau of Standards and Quality.
Pressure
A recently-published International Monetary Fund (IMF) working paper revealed that Bahamian banks have increased fees for cross-border transactions by as much as 186 per cent over the last five years, due to growing pressure on their international ties.
As reported by Tribune Business, the fee hikes further expose the impact correspondent banking 'de-risking' is having on Bahamas-based institutions and their clients, with wire transfer fees alone having increased by 20 per cent since 2012.
It reveals how the fee increases, and extra time spent on compliance and administrative work, have negatively affected the financial services industry and a wider Bahamian economy that is primarily based on international trade and services exports.
The IMF paper warned that besides further depressing growth and jobs in the financial services industry, 'de-risking' was also "complicating efforts to diversify the economy", with many institutions "vulnerable" to further reductions in the number of relationships they hold with foreign correspondents.
It acknowledged, though, that the decision by some global banks to terminate relationships with their Bahamian counterparts was driven, at least in part, by their "discomfort" in providing services to institutions that do business with the web shops.