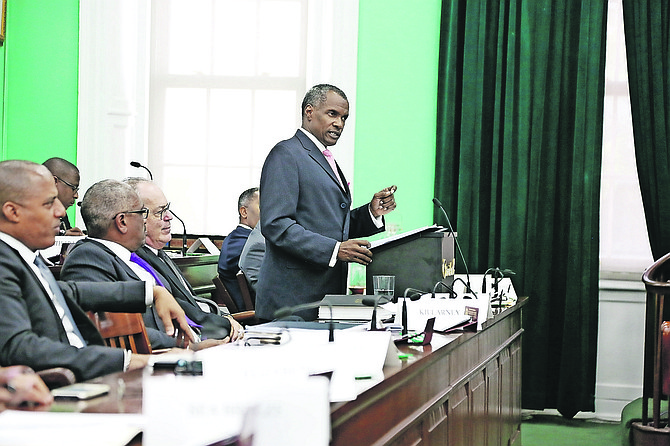 By KHRISNA RUSSELL
Deputy Chief Reporter
krussell@tribunemedia.net
THE Straw Market Authority lacks procedural policies necessary to prevent mismanagement and mishandling of funds, Works Minister Desmond Bannister said yesterday, as he pointed to hefty unpaid bills.
In Parliament yesterday, Mr Bannister said the authority had accumulated large unpaid credit card bills and $33,649 in cell phone charges from phones purchased by the SMA and issued to board members.
He also revealed former SMA directors paid themselves Christmas bonuses for the years ending December 31, 2015 and 2016, adding there was no authority in the Act for the payment of such bonuses.
For 2015, the bonus totalled $7,650.02 and was paid to board members in March 2016; another payment of $7,233.35 was paid to the board on or about December 8, 2016, Mr Bannister said.
Mr Bannister added the authority failed to keep proper accounts of all transactions and other records in relation to its statutory obligation to do so.
"In particular copies/original contracts for the provision of services have not been located, due diligence information on service providers has not been obtained, in particular there exists no copies of business licence, tax compliant certificate, NIB compliant confirmation, or confirmation of beneficial ownership for any service provider," he said during an address thanking Governor General Dame Marguerite Pindling for reading the Speech from the Throne in May.
"The SMA has two credit cards issued from the Royal Bank of Canada. The Accounts Department was unable to provide an accounting or produce invoices/personal payments received in relation to these two credit cards, which have been left with large outstanding balances.
He said: "Each member of the previous board of directors of the SMA was provided with a cell phone and all charges were absorbed by the SMA. To date the Board, has not been provided with any information that suggests any former board member was made personally liable for any cell phone charges. No former board member returned any cellular device purchased by the SMA. The combined outstanding balance on the cell phones is $33,649.18.
"The SMA ran a Day Care facility at a cost of $25 per week per child. The Board has not been provided with any accounting records regarding the collection of the fees from the day care.
"The SMA accounts department has no set written policy for the collection of outstanding stall rents or procedure regarding temporary/permanent closure of stalls - revocation of licences," he added.
Mr Bannister said the authority has failed to produce annual audited financial statements and the Minister with responsibility for the SMA has never been in a position to lay copies of the audited financial statements or an annual report before the House of Assembly, as specifically required by section 13 of the Straw Market Authority Act 2011.