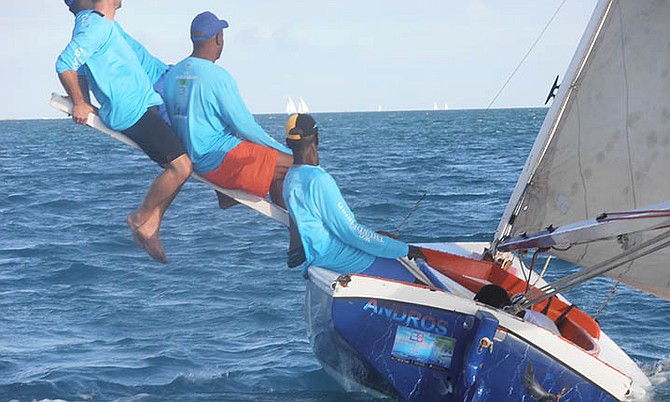 By Felicity Ingraham
Minister of Agriculture and Marine Resources Renward Wells is keenly watching current economic trends and the emergence of the "blue economy", which he believes has the ability to decrease the national deficit and increase revenue to The Bahamas. The country, he says, with its vast natural aquatic resources, is poised to benefit from the focus the world is currently placing on the ocean as new ways are explored to sustain the earth's population.
The blue economy is one where the world's oceans take priority, not only maximizing its benefits, but ensuring this is done in a sustainable way so that future generations continue to benefit. It follows the current popularity of the green economy, which is seeing an increase in awareness globally for eating healthier, living in a way that respects nature, utilising alternative energy sources, and cleaning up the planet from centuries of abuse.
Wells has spent the past few months analyzing the country's current import and export trends, his ministry's budget allocation, and is now considering necessary legislation to make meaningful change in agriculture and marine resources. He has high hopes the inititiatives which will roll out in the coming months will pay off, including the introduction of two major greenhouses, more incentives for local producers and a focus on the blue economy.

"The world is now talking about the blue economy, how we manage ocean resources for the benefit of humanity and how we preserve these resources for future generations," he told Insight.
Impact
"We are also looking at how to maximize the economic impact an ocean can have on a people; The Bahamas is over 100,000 square miles. I believe the wealth of this country lies mainly in the oceans."

The Bahamas sits on a national debt of more than $7 billion, has some of the worst rates of non-communicable diseases in the world. These are the kind of issues that doesn't add up for Minister Wells, who said he is determined to inspire the nation to look at the ocean and land for the answers to the myriad of issues currently facing the country.

"We can look at aquaculture, which is growing fish on the land, and we can do it by open ocean fishing," he said.
"East of Cat Island, Eleuthera and Abaco, out in the Atlantic for 200 miles, is our exclusive economic zone. It is the territory of the Bahamas under international law and we have exclusive right to fish it, mine it and use its resources. As Bahamians, we are not taking advantage of it. We need to look at how we maximize deep sea fishing, but in a sustainable way."
Wells served as chairman of the ACP (African, Caribbean and Pacific Islands) Conference in New Providence last month, greeting agriculture and marine resource experts from various countries. It was determined at that conference that The Bahamas is "underfished" in regards to certain marine species.
"This indicates vast potential," said Wells.
Although the term "blue economy" has been used in different ways, the World Bank Group refers to it as "comprising the range of economic sectors and related policies that together determine whether the use of oceanic resources is sustainable".
World Bank Group states: "An important challenge of the blue economy is thus to understand and better manage the many aspects of oceanic sustainability, ranging from sustainable fisheries to ecosystem health to pollution. A second significant issue is the realization that the sustainable management of ocean resources requires collaboration across nation-states and across the public-private sectors, and on a scale that has not been previously achieved. This realization underscores the challenge facing the Small Island Developing States and Least Developed Countries as they turn to better managing their blue economies."
The Bahamas is a paradise for the blue economy, considering it not only boasts of waters still teeming with marine life, but because it is also a playground for anglers, divers, sailors and so much more. Further, each of the industries are multi-million dollar ones on their own. With global attention on the waters, Minister Wells intends to find ways to take the country towards self sufficiency and food security, and ultimately an increase in revenue.

When Prime Minister Hubert Minnis handed him the portfolio, Wells knew he would have a chance to exact his passions through the job. He immediately identified his primary concerns for the country: "food security; energy security; a knowledge-based economy with 21st and 22nd century education; deepening of the democracy; personal security for Bahamians; and economic empowerment for the Bahamian people where they own the upper tiers of this economy".
"I believe in real food security," he told Insight.
"That means that whatever we can produce and not have to import, we should. My overarching principle is real food security and to give the industry of agriculture and the industry of marine resources back to Bahamians."
The Bahamas' blue economy can provide an abundance of opportunities that the country must capitalize on, but much work is still to be done on the land, said Minister Wells, who told noted Bahamians should expect to see appropriate legislation and an increase in education come about on his quest for food security for the country.

In terms of exports, The Bahamas' blue economy is responsible for the lion's share of the profits. Of some $100 million in export revenue earned annually, nearly $90 million comes through the sale of spiny lobster, also known as crawfish.

Wells not only wants Bahamians to focus on the blue economy, but also to take up the current green trends and begin growing food, hence changing the culture of reliance that literally scares him.
Food
"It is with great consternation that I think of what would happen, if we did not get food into this country for about three weeks", he said.

"It is my intention to have Bahamians eat as much of their food from local sources. This would allow us to eat food that is closer to its nutritional source."
In terms of education, he admits that since coming to the Ministry of Agriculture and Marine Resources, he has learned so much he feels the public is unaware of, and he intends to change that through educational campaigns geared at inspiring Bahamians to grow their own food and providing them with knowledge and opportunities to be successful.

"I was pleasantly surprised to find the extent to which my ministry goes to encourage local producers, both in crop and livestock," he said.

Vast extension services, a fish and farm store which provides feed to producers and an animal feed mill currently exist. There is also land clearing and tractor services available for farmers, where farm lands are disked and cleared at only half the cost.

"We don't grow because we don't know," Wells said.
University of The Bahamas students will be some of the first beneficiaries of the Minister's agenda, as plans are underway to create a large-scale greenhouse for the university. UB and Ministry officials will collaborate to provide students with the opportunity to see just how viable the agriculture industry is. Grand Bahama is also on the drawing board for a greenhouse which the ministry intends to provide for research, produce, packaging and manufacturing.

In many ways, he said, local producers simply need more funding to expand their businesses. He called on corporate Bahamas to take on the attitude of their branches around the world, which provide heavy support for fishermen and farmers, knowing that their industries ultimately lead to food security for their country. He is also seeking to find ways for the Bahamas government to become even more supportive to fishermen and farmers, noting that governments around the world provide huge subsidies for the industries in his portfolio.

Wells intends to take a closer look at all of the goods currently produced by Bahamians, because so many of them lend themselves to additional industries through the by-products; for example, rock salt is an excellent bath scrub. Cottage industries are thriving, he said, but large-scale manufacturing will lead to global export, and this is the direction the country must head, he said.
He is currently considering a national product called a grow bag, which allows agriculture to take place out of the ground. The Bahamas, filled with porous limestone rock and just a few inches of topsoil, does not allow for the kind of large-scale farming that places like North and South America may engage in. But Wells points out that in Israel, the farming industry is seeing much success from grow bags, which consist of coconut husk imported from Thailand. The Bahamas, he says, could create its own grow bags, and testing will begin to determine how viable a product that a grow bag made of coconut husk and seaweed will be. This is the kind of experimental work he expects to see come from the creation of the greenhouses, as Bahamians find more ways to increase is crop output.

Expect to see a ban on chicken imports in the future, once the chicken industry is revived. It's another goal of Minister Wells, who finds it appalling that "we are tipping near 100 pounds of chicken per year per person", while only one chicken farm, Abaco Big Bird, is in any kind of large scale operation. To date, 90 per cent of chicken consumed by Bahamians is imported.
"This is an example of the vast potential existing in this country to radically effect change for a more buoyant and robust economy," he said.
Minister Wells has always been in love with the land and sea. He grew up in Drigg's Hill, South Andros with his grandparents, Natalie and Bertram Flowers, who was known as one of the greatest fishermen on the island in his day. He spent many days going to the field with his grandmother Natalie, reaping the harvest of peas, corn, native fruit, and whatever else they would grow. Prior to that, he was in Long Island with his grandparents Lennox and Edith Wells. With the island life so deeply rooted in him, he told Insight that he will work to change the culture of the country, until its people are healthier and wealthier.
More like this story