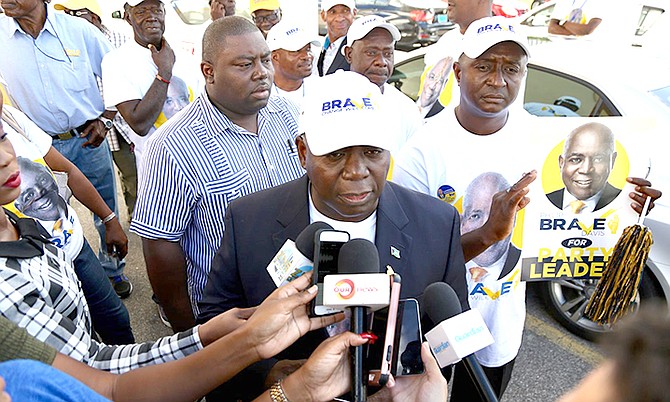 Reader poll
Philip 'Brave' Davis 59%
Glenys Hanna Martin 41%
243 total votes.
By AVA TURNQUEST
Tribune Chief Reporter
aturnquest@tribunemedia.net
"WELCOME to the big leagues," was the message from Progressive Liberal Party  interim Leader Philip "Brave" Davis when asked to respond to concerns he was given an advantage over his opponent Englerston MP Glenys Hanna Martin due to his financial support of the party.
Former Tall Pines MP Leslie Miller suggested to The Tribune Mr Davis was allowed to speak at the party's pre-convention prayer breakfast on Sunday because he had sponsored it, and much of the convention.
When asked to respond Tuesday to speculation he spoke at the prayer breakfast because he paid for it, Mr Davis sidestepped the issue, saying: "I will not speak to that, the issues, all I can say is, welcome to the big leagues."
Mr Davis and outgoing PLP Chairman Bradley Roberts have pushed back on criticism leveled by Mrs Hanna Martin, who yesterday accused both men of being disingenuous, insisting the decision to block candidates from addressing the convention before the vote was undemocratic and a break from precedent.
Yesterday, Mr Davis said he thought Mrs Hanna Martin's critique flew in the face of democracy, explaining the party's convention committee decided both leader candidates would speak on the final night of the convention as the victor and the loser.
He noted Mrs Hanna Martin had raised concerns with him, and he informed her of the committee's decision.
Mr Davis also said: "I will have two speeches prepared, one to congratulate her if she succeeds, and one to chart the way forward if I succeed, and I hope that that's what she would have done. I think I would have conveyed that to her as to what they would have said to me, so it's unfortunate that she thought the matter is unfair but I don't think it is because I'm not speaking either."
Mrs Hanna Martin complained about being denied an opportunity to speak at the convention in a letter to delegates obtained by The Tribune. She also expressed concerns on Monday over the use of money in the PLP's internal election campaigns, insisting the organisation needed rules to ensure delegates are free from influence when they head to the polls.
Yesterday, Mr Davis insisted his address at the party's prayer breakfast did not give him an advantage over Mrs Hanna Martin, underscoring that his speech was not self-promoting but called for party unity.
"The audience I had wasn't the delegates you see here," Mr Davis said. "Family Island delegates were not in as far as I'm aware. I spoke to persons who participated in the prayer breakfast and she was there, I acknowledged her presence."
Mr Davis said at one point during the event, the committee chair was looking for Mrs Hanna Martin, but she was not present at the time.
Mrs Hanna Martin rebuffed comments from both Mr Davis and Mr Roberts as "disingenuous" in an interview with reporters at the close of nominations yesterday.
She pointed out that Mr Davis had the full stage at the prayer breakfast, but also noted the Rum Cay, San Salvador and Cat Island MP presided over the convention as interim leader and has full knowledge of all proceedings.
"I'm assuming he has knowledge of the fact of this decision being made, so I understand what he's saying with his two speeches but he already had one a couple days ago."
She reiterated the last leadership contest which did not feature an incumbent elected leader - some 20 years ago - provided for all leadership candidates to address delegates.
"Twenty years ago, when there was a leadership race with Perry Christie, Bernard Nottage and Philip Galanis, each candidate spoke," Mrs Hanna Martin said.
"That's the only prior experience we have so this rationale I see touted is disingenuous. It does not pertain to this particular circumstance and in any event, I was told I was speaking Tuesday night."
She continued: "And then I was told I can't speak, I'm a candidate, but last night they had multiple candidates so we know what's going on here but I just want us to be very transparent in what we are saying."
Mrs Hanna Martin said she was "flabbergasted" over why officials were being stubborn about the issue but that her team would continue to push the matter.
Weighing in yesterday, Mr Miller said he supported Mrs Hanna Martin's right to speak, but had since backed down after he realised that Mr Davis would not be speaking on the convention floor either before votes are tallied.
Mr Miller suggested Mr Davis was allowed to speak at the prayer breakfast because he had sponsored it, and much of the convention; however, he added he was not intimately involved with the process.
For his part, former PLP Cabinet minister Damian Gomez said: "We do need to change some of the things that we do and how we conduct business internally.
"I don't know why that decision was made. If you're running for a position I would think that you would need to have an audience so the convention has an opportunity to assess what your intentions are, and that's best done if everyone is given an opportunity to speak."
However, Mr Gomez did not go as far as to call the process unfair, instead noting that it has been unchanged for years and underscoring his disapproval of the current voting system.
"I believe that we ought to have a system in which every member is entitled to vote and not merely one group of people, but we have to make some changes to our constitution to have that achieved," Mr Gomez said.
"We are on the road to reform and this process is necessary and after it's completed we can then see some firm plans put to the public, to the party, as to the way forward."