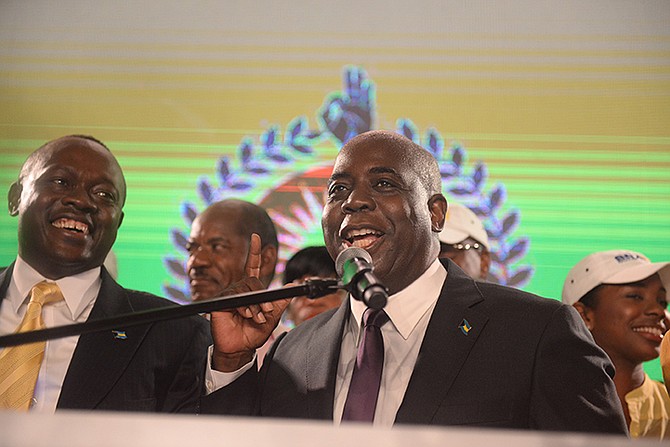 By MORGAN ADDERLEY
PUBLIC reaction to the Progressive Liberal Party's recent convention on Friday ranged widely from faith in leader-elect Philip "Brave" Davis' ability to secure a PLP victory in the next general election; to concern about what Glenys Hanna Martin's defeat means for women in politics to general disinterest in the party and Bahamian politics on the whole.
The Tribune canvassed job seekers at the Kendal Isaacs National Gymnasium to poll their opinions on the PLP convention held October 23rd-26th.
Davona Ramsey, 22, said while she did not follow the convention, she would have preferred a woman leader.
"I was not there and...I'm not really political," Ms Ramsey said.
"I think the PLP is wonderful, is a wonderful party and everything, but I'm not really political or anything like that to really have much to say. But I saw it on the news and I saw a little insight on it. It was really good, it was interesting but not really for me."
She continued: "I'm very fierce on strong women in leadership, so I would really have hoped that [Ms Hanna Martin] would have prevailed, but I would understand our country probably didn't see her as a good fit. But I am very strong on women in leadership, women in power, women doing things that most people thought that we couldn't. So I am very strong about that."
"I honestly believe [Ms Hanna Martin's loss] was more about her gender," Ms Ramsey added, "because a lot of people don't believe in women having that much authority. They were a little controversial when it came to our Governor General being a woman, so our Prime Minister as well they probably was not having it at that time."
An 18-year-old woman, who requested anonymity, said she believed Mr Davis will help the PLP secure the next general election.
"He could be more better than Perry Christie," the 18-year-old said.
"He could do what Perry Christie was trying to do or trying to finish."
Unlike Ms Ramsey, the teen said she found it "fair" that there are significantly fewer women than men in positions of political leadership in the Bahamas. However, she declined to elaborate on her thoughts on the matter.
A 59-year-old man said: "I finish with them (PLP). I don't fool with them. I give up on them. I used to be a hard PLP but I can't fool with them. They did too much wrong to the people."
When asked about "Brave" Davis' ability to secure a PLP victory, the 59-year-old man said: "Well I can't say much about him."
Kaylea Albury, 20, told The Tribune she did not follow the PLP convention or pay attention to who was running for party leadership, but instead expressed admiration for the Free National Movement government.
Ms Albury said: "I feel the FNM is doing an awesome job since they went into power, because of certain situations what I have seen or heard about, especially during the hurricane season and helping those from the island especially. I feel the FNM is doing a good job so far."
A 29-year-old woman, who requested anonymity, said: "Me personally I'm not voting next [election]."
"I just feel like if I ask for only one simple thing," she said, "I'm not asking you for the world, just to place me where I know I could be able to work and don't have to worry about getting laid off tomorrow or what's not. That's all I ask. And since everybody done get they position, they forget about the people.
"And I meaning FNM-wise and PLP-wise," the 29-year-old continued, "so I just feel like not voting next election."