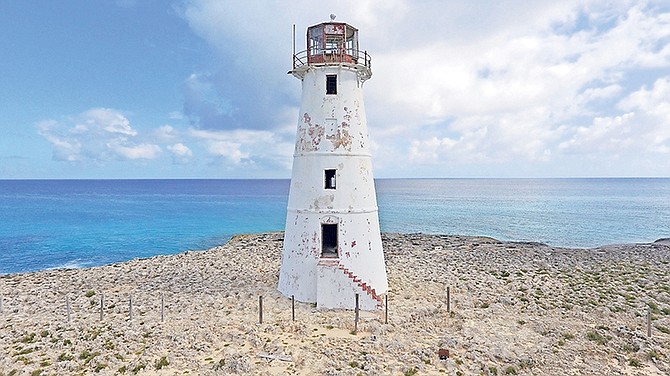 By RICARDO WELLS
Tribune Staff Reporter
rwells@tribunemedia.net
TODAY marks the 200th anniversary of one of the country's most famed and historic landmarks, the Nassau lighthouse.
Although nothing was planned to recognise the event, officials said yesterday plans are being considered to "restore, develop and market" dozens of sites in the coming years under a public-private partnership scheme.
The iconic and historic Nassau lighthouse has undergone years of mismanagement and disrepair.
The monument has, in the past two years, become a point of contention for many historians due to the state it has been kept in. In 2015, The Tribune published an article that highlighted ongoing issues at the historic property.
That initial article prompted a series of repairs, responses by governmental bodies and a litany of promises. However, there was no mention by officials of the landmark's 200th anniversary this week.
In an interview with The Tribune on Thursday, Michael Pateman, senior archaeologist at the Antiquities, Monuments and Museums Corporation (AMMC), revealed the government was now considering several public-private partnerships (PPPs) to restore, manage and develop sites like the Nassau lighthouse into paid sites.
"Heritage tourism is the push," Dr Pateman stated. "What that means is simple, sites like the Nassau lighthouse, historic sites, will take on prominent roles in a tourism product."
He added: "We are already in discussion with a company with respect to the Nassau lighthouse, and while it doesn't help with plans for this year, the view is to, moving forward, ensure that the proper due is given to these types of sites.
"PPPs, I think, offers a chance for historic sites to be restored and serve greater purpose," Dr Pateman said.
Under the Christie administration, responsibility for the general upkeep of the site was under the purview of the Royal Bahamas Defence Force, through the Ministry of National Security. The Port Department, through the Ministry of Transport and Aviation, is responsible for the human resources management with regard to the lighthouse keepers. The AMMC, through the Office of the Prime Minister, is responsible for the overall maintenance of the 12 historic lighthouses in the Bahamas.
The former administration was rumoured to be creating a national plan that would prioritise the historic lighthouses around the country.
A sub-committee was established by former Transport and Aviation Minister Glenys Hanna Martin in 2013 or 2014, after the automation of the Inagua lighthouse in 2012.
That committee was formed to enhance the way historical lighthouses are treated.
It is unclear exactly how responsibilities for such sites will be divided under the new FNM government.
Centreville MP Reece Chipman has been appointed chairman of the Antiquities Monuments and Museum Corporation (AMMC) board of directors.