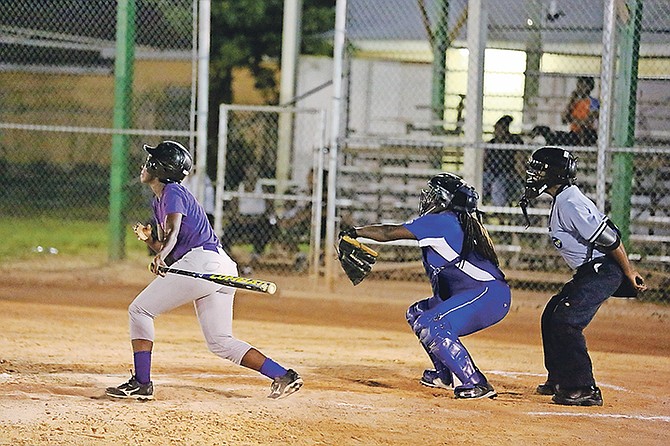 THE New Providence Softball Association (NPSA) continued its regular season action in the Banker's Field at the Baillou Hills Sporting Complex Saturday night with the Lady Truckers and the Platinum Lady Sharks making short work of their opponents in a ladies' double header.
In the opener, the defending champions Lady Truckers knocked off the Lady Hitters 13-3, while the Lady Sharks devoured the University of the Bahamas Lady Mingoes 19-1.
Here's a summary of the two games:
Lady Truckers 13, Lady Hitters 3: Shavette Taylor was a perfect 2-for-2 with two runs batted in (RBI) and scored three times, while Ruthann Simms was 1-for-3 with three RBI.
Marvell Miller was the winning pitcher and Thela Johnson got tagged with the loss.
Lady Sharks 19, Lady Mingoes 1: Ramona Hanna helped her own cause by going 1-for-2 with an in-the-park home run, driving in two runs and scoring once to lead Platinum.
Denisha Woodside went 2-for-4 with two RBI and three runs scored and Sari Albury was also 2-for-4 with three RBI and two runs scored.
Daria Cambridge suffered the loss.
Games on tap for this week are as follows:
Tuesday
7pm - Commando Security Truckers vs Mighty Mitts (M)
8:30pm - Sunshine Auto Wildcats vs Lady Truckers (L)
Thursday
7pm - Lady Truckers vs Platinum Pool Lady Sharks (L)
8:30pm - BTC Warriors vs Commando Security Truckers (M)
Saturday
7pm - Sunshine Auto Wildcats vs University of the Bahamas Mingoes (L)
8:30pm - Platinum Pool Sharks vs Lady Hitters.