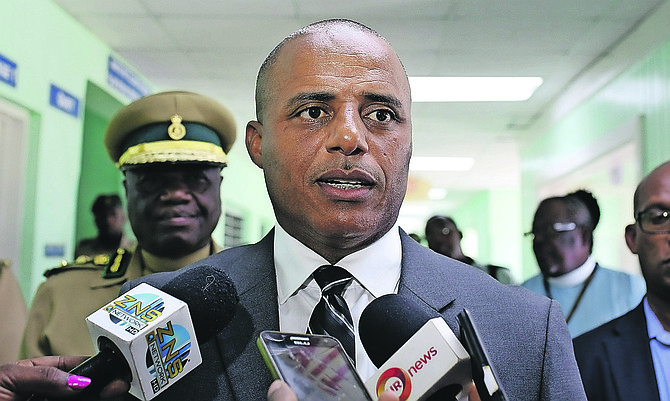 By AVA TURNQUEST
Tribune Chief Reporter
aturnquest@tribunemedia.net
NATIONAL Security Minister Marvin Dames rebuffed critics of the government's actions on crime, telling reporters the Free National Movement came to office with crime at alarming levels and the problem could not be solved in three months.
However, he said, the government is determined to solve the problem and is constantly discussing ways to do so.
He spoke to reporters the same day Shadow Minister of National Security Glenys Hanna Martin and Senator Fred Mitchell called for more action from the FNM on crime.
His comments also came on the heels of a spate of shootings in the capital. Two men were killed and three others, including two women, are in hospital after three separate shootings on Monday. The deaths of the men pushed the country's homicide count to 95 for the year, according to The Tribune's records.
"These shootings and homicides didn't just start on May 10 and for anyone to even look at that and say the crime strategies are failing, we've been at this for three months, we came into office with high murder rates," Mr Dames said.
"The question is, what do we do to begin to work with the community to bring numbers down? I can't get involved in the politics of this situation, the elections are over we're all Bahamians now.
"We must work to gather collectively to find solutions to these problems and I can assure you that as a government day-in and day-out we are looking at ways to work towards mitigating this problem and we're determined to do so."
He added: "I'm not concerned with people being critical, that's ok. This is not a quick fix these problems have manifested in this country for decades, we can't get in for three months and expect this problem to arrest itself."
Mr Dames pointed to the recent formation of a Cabinet committee to take a holistic, multi-agency approach to crime challenges, and the establishment of the National Crime Prevention Council.
Mrs Hanna-Martin, Englerston MP, yesterday underscored the destabilising effect of violent crime in the country as she called on the government to urgently collaborate with national stakeholders.
She said the Official Opposition stood ready to collaborate with the government in this "national emergency."
Taking aim at Mr Dames' pre-election campaign advertisements, Mrs Hanna-Martin said she was reminded of the trite irony of his attractive political commercial. She questioned where was Mr Dames' "smug guarantee" that Bahamians will feel safe in their homes under the Free National Movement administration.
She spoke of the three homicides that occurred last week, including the shooting death of an eight-month-old infant.
"Within the last four months alone we have had more than 40 murders. This horrifying rate of killing and bloodshed combined with what appears to be an alarming rise in armed robberies have escalated levels of fear and created a sickening unease in our community."
She continued: "This rate of violence is unsustainable to the wellbeing of our country. It is eroding public safety and harming public confidence; it is threatening our social and economic stability as a nation."
Meanwhile Mr Mitchell yesterday questioned the level of government resources deployed to his constituency. Two of Monday's shooting victims were accosted in Fox Hill.
Mr Mitchell said he wrote to Police Commissioner Ellison Greenslade requesting additional resources citing community fears of a "tit-for-tat" drug war.
"Last night residents of Fox Hill called me when the sound of eight gunshots rang out in the vicinity of Abner Street," the former Fox Hill MP said.
"As they spoke to me, they were crouching in their home for the second time in as many days; the night before the same thing had occurred."
"I wrote the commissioner of police complaining that the swimming pool with children in it had to close its access and send the children home because in the middle of a Sunday afternoon shots rang out in the same vicinity."
He continued: "I pleaded for additional resources. I made a public statement in similar terms on August 31. I said that the community feared that an ongoing tit-for-tat drug war was going on and that additional resources needed to be placed in the area to deal with it. I copied the national security minister. To this day and to the best of my knowledge, information and belief, nothing has been done."
Mr Mitchell said: ". . . How much more is this community going to be asked to take of this?
"What resources of the government can be called upon and supplied in their aid and comfort or is it because it's Fox Hill that the government refuses to act?"
In her statement yesterday, Mrs Hanna Martin also said: "It must be clear to all that this worrying dilemma of violence in our country is not the subject of some prideful political stance. It is both destructive and complex at the same time; it impinges on multiple factors, including the apparent ease of availability of guns, the severe economic pressures bearing down on many people, the substandard physical conditions people are forced to live in and the deprivation suffered by many of our children.
"This epidemic of violence requires the government to go to another level; they must on an emergency basis collaborate with all relevant stakeholders in our country to develop a comprehensive plan that will yield results, both in the immediate short term and in the long term," she said.