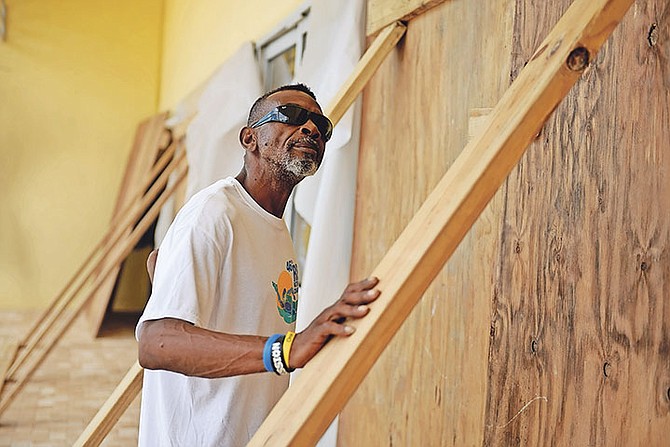 By KHRISNA RUSSELL
Deputy Chief Reporter
kvirgil@tribunemedia.net
HOURS before Prime Minister Dr Hubert Minnis pleaded with residents of MICAL and Ragged Island to evacuate ahead of "potentially catastrophic" Hurricane Irma, many residents in those communities told The Tribune yesterday they had no intention of leaving their homes, although Irma is now a category five storm and packs winds of 185mph.
Despite having survived the devastation left behind in the southern islands by Hurricane Joaquin in 2015, many residents in Crooked Island, Inagua and Ragged Island were apprehensive about leaving their homes before the storm, which will start to affect the southern Family Islands by Thursday evening.
Last night, Dr Minnis announced flight arrangements to evacuate residents from the southern islands to New Providence.
The voluntary evacuation will begin at 8am and is expected to end at 6pm Wednesday.
Daphne Cunningham, of Crooked Island, was one resident who said she believed her house would be safe and sturdy enough to withstand Irma.
"I'm living on a hill so I think we should be straight," she told The Tribune on Tuesday afternoon, before Dr Minnis' announcement. "So I am going to stay right here at home and ride out the storm.
"We are right now trying to do the necessary preparations, stocking up on grocery items, and battening up," she continued.
Asked if her experience with Hurricane Joaquin would in any way shape her decision in bracing for Irma, Mrs Cunningham said: "No one is really panicking. We are all just hoping for the best."
Another Crooked Island resident, who did not want to be named, said despite his home being severely flooded by sea water during Hurricane Joaquin, his only decision was to seek shelter at a nearby church, located on a hill. He said he did not consider evacuating the island and seeking shelter in New Providence or another Family Island.
"If I evacuate, I will go to the Church of God in Cripple Hill, about four miles from where my house is now. That's the nearest shelter," he said.
"Everyone is clearing loose debris and old wood. We are securing everything that could be secured, stocking up on gas and getting foodstuff. We are monitoring the storm to determine if we are going to move to higher ground, but that's about it.
"Last time I was in Landrail Point and we got unbelievable flooding. The water flowed where it could have."
Resident Gerald Cunningham added: "Crooked Island is ready. Everybody is ready. Some people are planning to go to Nassau tomorrow (Wednesday), but I don't plan to evacuate. I live on a hill so no water can do me anything."
Florence Ferguson had different sentiments.
Ms Ferguson, a retired teacher now living in Major's Cay, Crooked Island said she was in the process of packing up her car with personal items in preparation to take the mail boat to New Providence.
She said: "I already prepared for everything and now I am just trying to lift my things to higher ground and pack up my small car. I live in a T11 house. It's wooden and it's small. I am leaning towards putting my car on the mail boat and getting into Nassau.
"The boat is getting in at 8pm and I plan to be there at 5.30 waiting.
"My children in Nassau are calling for me to come, so I think I will go."
Earlier on Tuesday, officials placed the southeast Bahamas and the Turks and Caicos Islands under a hurricane watch. This includes the islands of Inagua, Acklins and Crooked Island, Mayaguana, Long Cay, Samana Cay – which all make up the MICAL constituency – as well as Ragged Island and the Turks and Caicos Islands.
This means these areas could feel the impact of Hurricane Irma within 48 hours.
In Duncan Town, Ragged Island, Granville Hepburn said he didn't see the need to evacuate. Duncan Town is the only settlement on the island.
He said: "The only thing we could do is get prepared. (We are) preparing houses getting prepared for Irma. Everyone is just about done battening up.
"Many of us on the island don't see the need to go anywhere, because the island is high. I don't think we would flood."
However, he said at a meeting scheduled for later in the afternoon some were expected to decide on whether they would leave the island.
"I guess if there is a way to get out, people will take it. I haven't made up my mind, but I don't think I'm going anywhere," Mr Hepburn said.
Residents in Inagua who spoke with The Tribune seemed for the most part unbothered by the impending dangerous storm.
Marquis Rolle, 20, said "it is what it is" when he was asked whether there were any fears over the storm.
"I mean we are doing everything we could and are trying our best to get everything together and trying to help neighbours and other people secure their homes and belongings," he told The Tribune.
"Yeah, a lot of people are battening up, but the storm is coming. It is what it is. We can't really do anything except for hope and pray for the best."
He said he was still undecided on whether he would evacuate the island.
Another resident, elderly Delores Symonette, said she was not prepared to leave the island, but she would seek shelter at her son's house.